Tuxedos And Why They Remain to Be The Go-For Piece For Your Wedding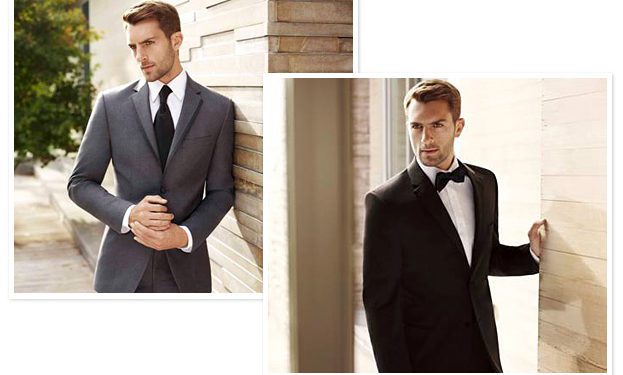 A wedding is a once in a lifetime event that deserves to be perfect, and there must be no compromises to making this day as good as you envisioned.
Typically, a lot of focus is going to be on the bride, and it is not surprising that the planning usually revolves around the bride-to-be. Still, this does not make you as the groom insignificant, and you must equally put your best foot forward to looking stunning for the big day.
The groomsmen must equally be the much-needed complement to your kingly look, and it takes mutual effort to make the day a success. You must never forget that years from now, you will be going through your wedding photos, and these should be moments of great pride. Instead of wishing that you should have done better, the present is the best opportunity to have the wedding of your dream.
A simple but efficient way to look the part for your wedding is by going for tuxedos, which have, for decades, remained to be the ultimate statement piece for formal events.
As a gentleman with exquisite tastes, you are aware that a high-quality tuxedo does not come on the cheap, and this is often a stumbling block.
Luckily, with the ease of access to online tuxedo rental services, the high costs of a quality tuxedo should not be a limiting factor.
Instead of worrying about what it takes to buy a tuxedo, rental services take this worry off your back and allow you to focus on the crucial factors.
The primary difference between a tuxedo and a suit is the presence of a silk satin incorporated on the side stripe of the pants, lapels, and jacket buttons of a tuxedo.
On the other hand, a suit is always made with a consistent fabric and does not have any satin fabric, making the physical difference between these formal wear.
Given the design and build of tuxedos, they are traditionally worn with bow ties, while suits are largely worn with ties. For most men, a suit is an item they would never miss in their wardrobes as they have to put them on more frequently while going for work to any other event.
As such, a tuxedo gains an edge as it is not everyday wear but a unique item that will bring about the desired excitement for your big day. The point of dressing for your wedding must be to make emphasis on how special that day is, and for this to be achieved, you need the right dress code.
It is not just the uniqueness of tuxedos that makes them the go-for wedding dress code but their elegance and stylish nature. Any man who has ever put on a tuxedo understands the magical touch it has that makes it outstanding.
There is hardly anyone who ever struggles to look great in a tuxedo, and all it requires is settling for the right colors and accessories. For your big day, there are lots of favorite sets that you can choose from to suit your preferences without having to feel like out of place.
A key feature about tuxedos is they have a way of making the wearer exude confidence and strength while looking formal. It is, therefore, a high-impact dress code that allows you to merge the fun and importance of a wedding.
A rule to abide by when going for a tuxedo rental is to find a company that will give you the flexibility in having a custom-fit piece that will make you look stunning.
Leading online stores have made this the core focus of their services, and this is enhanced by the fact that they offer a wide variety of tuxedos for you. As such, you never have to go around looking for the best rental store near you when there are quality solutions at the click of a button.
To avoid any inconveniences, you must only rent a tuxedo from an online store that, as a policy, makes deliveries several days before the wedding. This gives you sufficient room to try it out and demand a replacement if it does not suit your needs.