Anarkali Suits – Perfect Outfit for Your Wedding Anniversary in 2018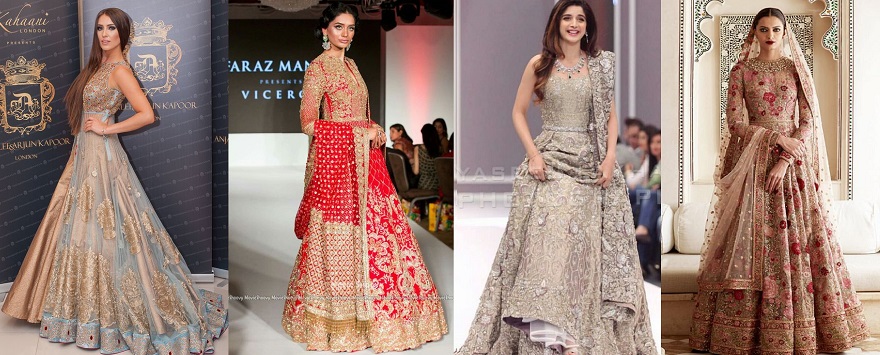 A wedding is once in a lifetime event that not just incorporates the most beautiful time of your life but also includes the sheer zeal and enthusiasm that share emotions, some touchy, some funny and some memories that will stay irreplaceable for the rest of your life.
As much as we praise the happening of events, the first anniversary is the primary event to celebrate and relive the wedding vows once again, to celebrate the closeness that only you and your husband share. The unbreakable bond that no one else is entitled other than you two.
Long Anarkali Suits, a beautiful traditional form of dressing, have made remarkable success when comes to a special occasion. It also replaces the need of purchasing an evening gown and hit the right notes of both evening gown and a traditional suit with an awestruck image.  So, being the center of attraction once again, just like the day when you took your wedding vows, is also necessary to keep things of the same authority. This time, without any pain of choosing the right wear for the D-day.
In sync with the decoration and food prep, the charm of the anniversary wear should be of the same specification. Without further ado, suggested some of the vibrant choices of designer Anarkali suits in a bright color to cast your spell all around.
Read on to find the Anarkali dresses you need to stock up for your wedding anniversary.
1. Red Anarkali Suit for Wedding Party
It is a no-brainer what red color can do, the significance holds that the red color is associated with fire which also represents the main component in an Indian wedding, there, when the wedding vows were taken hand in hand. The high and the tone of red is considered to be the sign of a newly-wed- bride.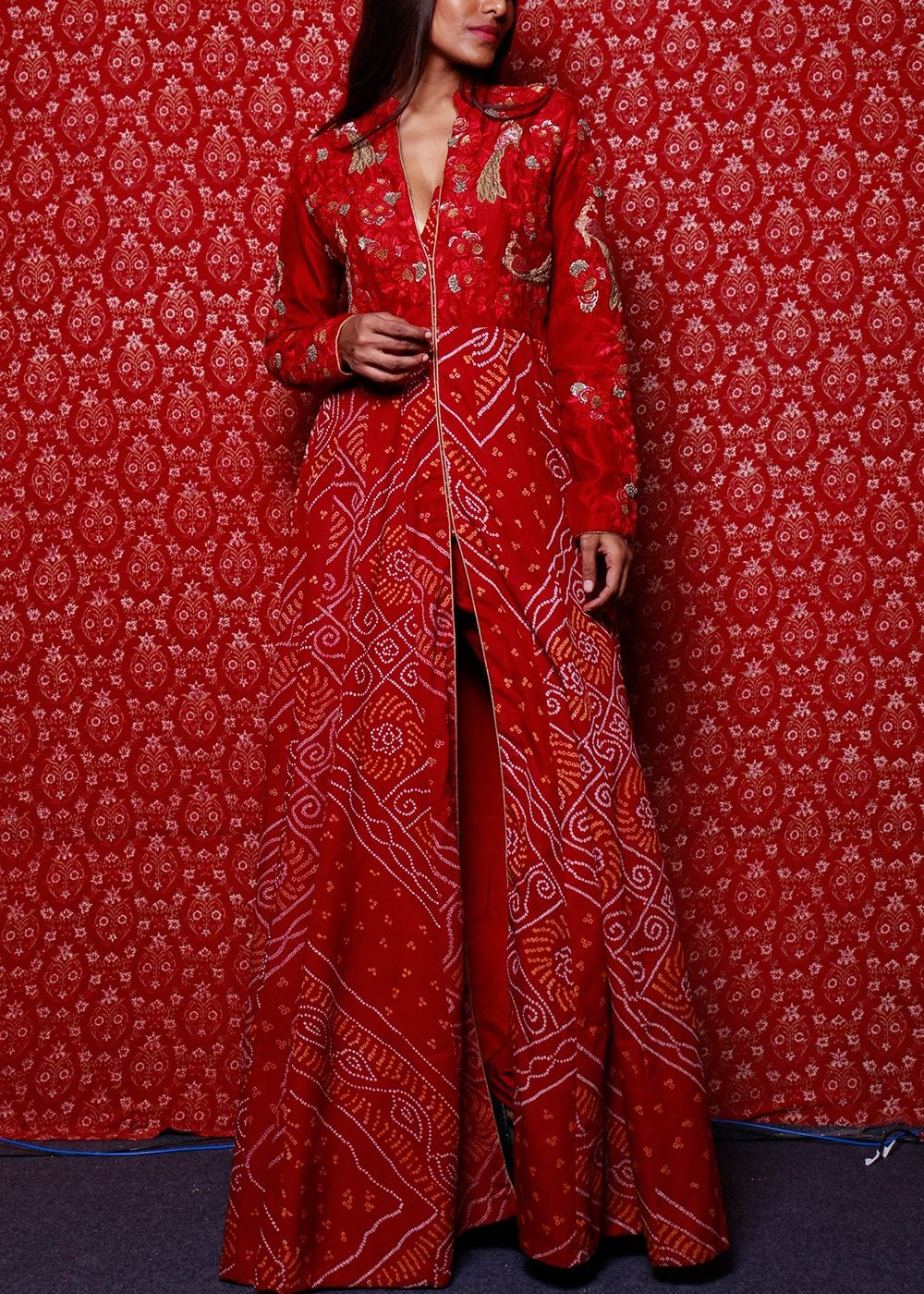 Since red also signifies blood, the element of life, this heavy work Anarkali salwar kameez makes it apt for your first anniversary celebrations to look back to the year when two souls became one.
2. Pink Anarkali Suit for Wedding Party
The never-ending preference of Indian brides. Delicate, sweet, feminist and romantic characteristics that make pink color worth to put on.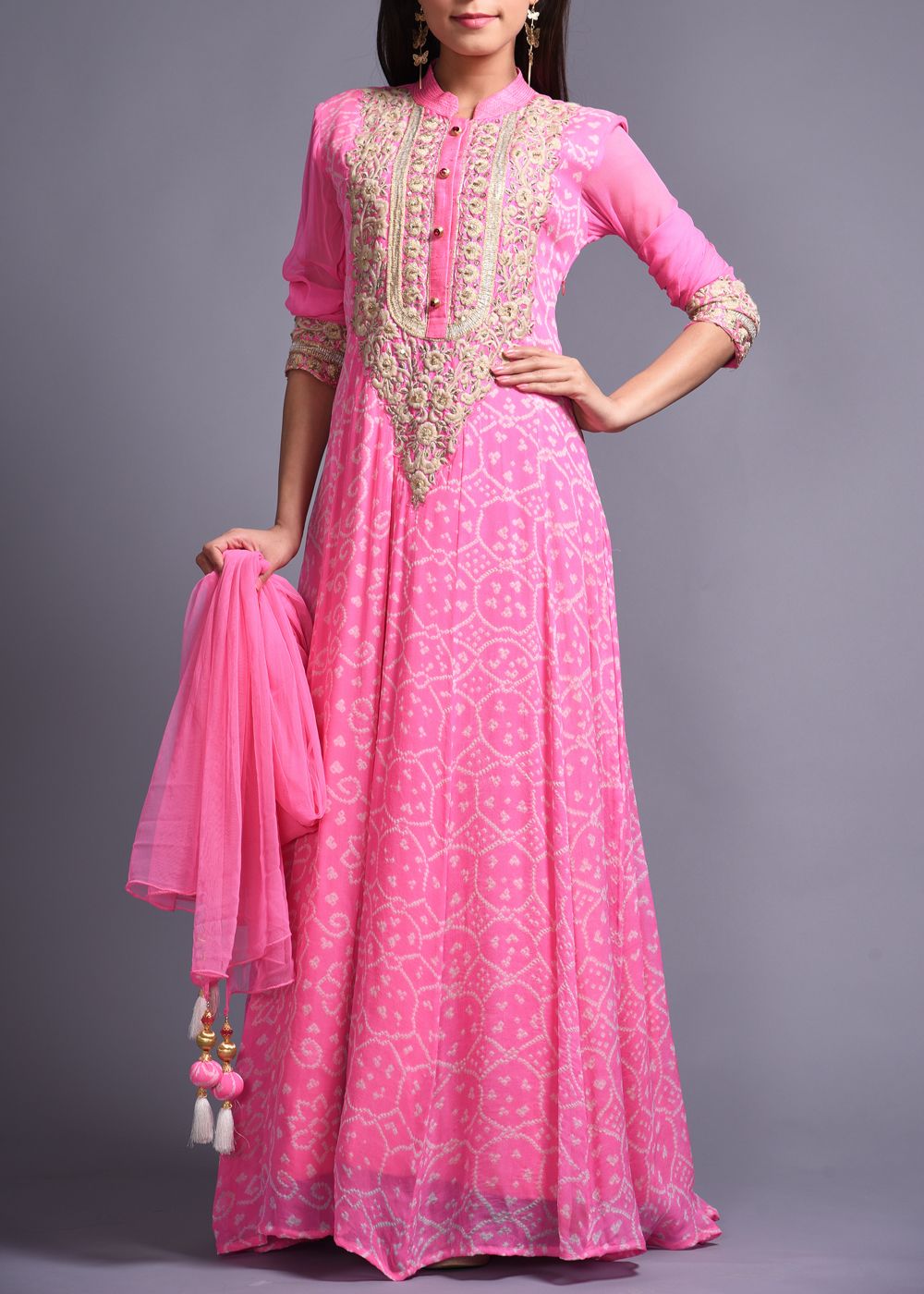 Add a little style with a slit layer on usual floor length Anarkali suit to make it a perfect color combined evening wear with a bit of blusher to compliment the attire.
3. Heavy Navy Blue Anarkali Suit for Wedding Party
The latest bell pattern Anarkali dress doesn't only look graceful but also touches the royal edge. Associated with the history and royal heritage, Navy blue Anarkali suit with a heavy detail on neck and flair adds to your special addition to special occasions like your first anniversary.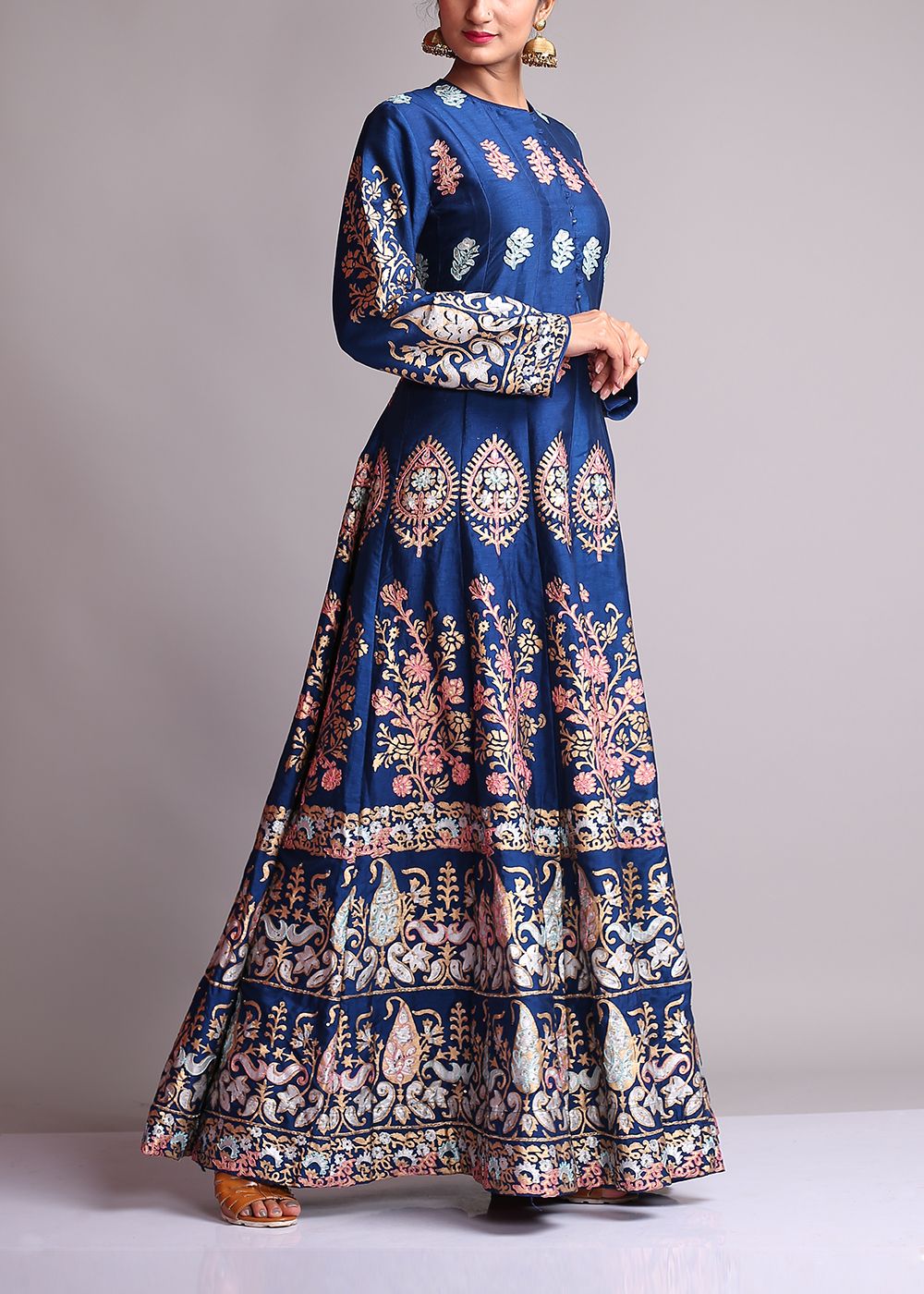 The unique silhouette of this Anarkali suit is the fitting from the waist and drop of huge flair which makes it look like a long skirt which makes it a magical ensemble with excellence.
4. Dark Pink Anarkali Suit for Wedding Party
When thinking of a simple and a subtle look for your first anniversary, this pink Anarkali suit tops the chart.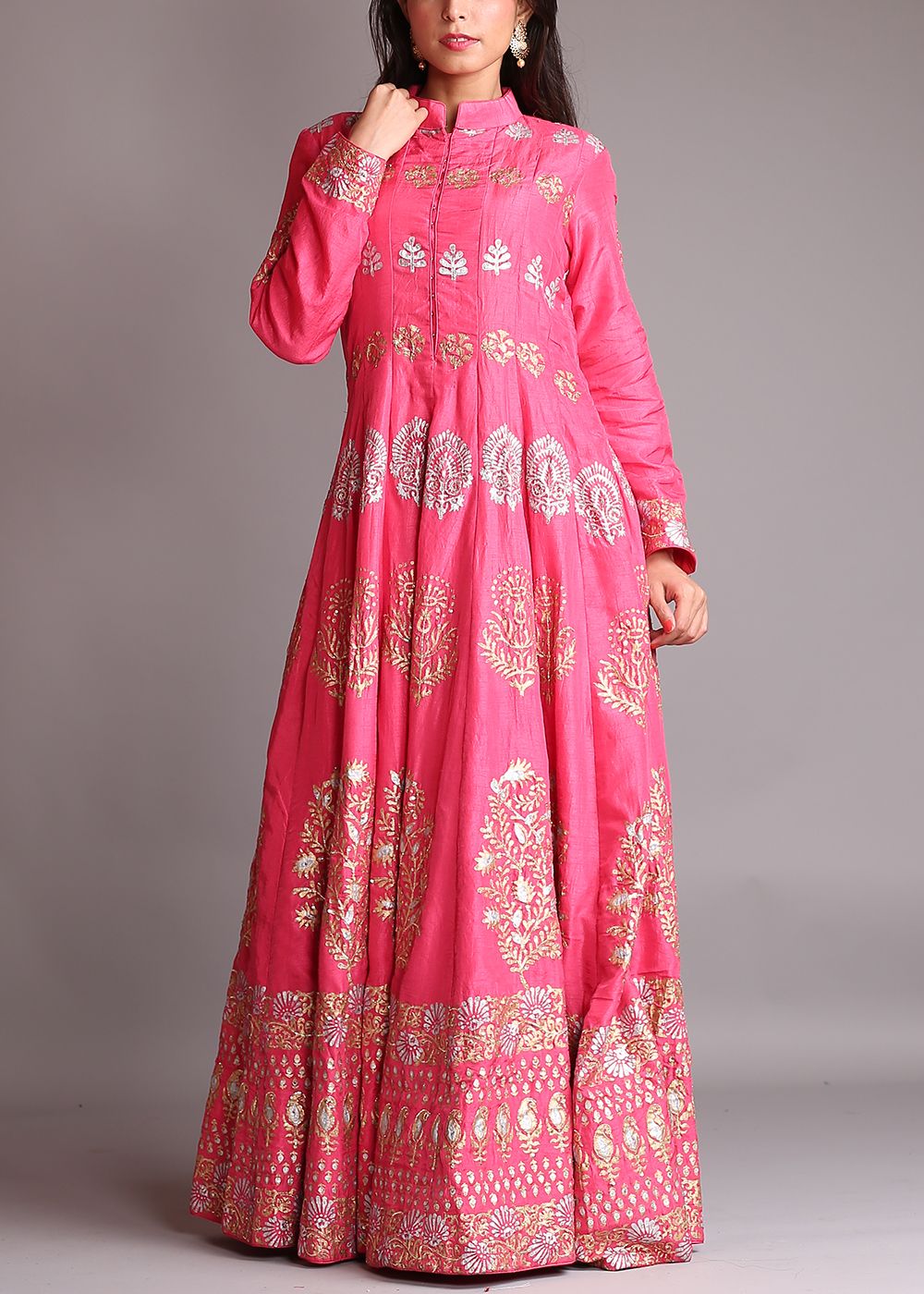 Just like the blush on your cheek, this ensemble rocks the event attire. Not much plates and work, a plain smooth Anarkali suit in tone with your body type which makes it even more lovable.
5. Green Anarkali Suit or Wedding Party
Thinking of a long Anarkali dress, the need for carrying a dupatta also becomes tedious, sometimes. So why not wear something which solves all the purpose?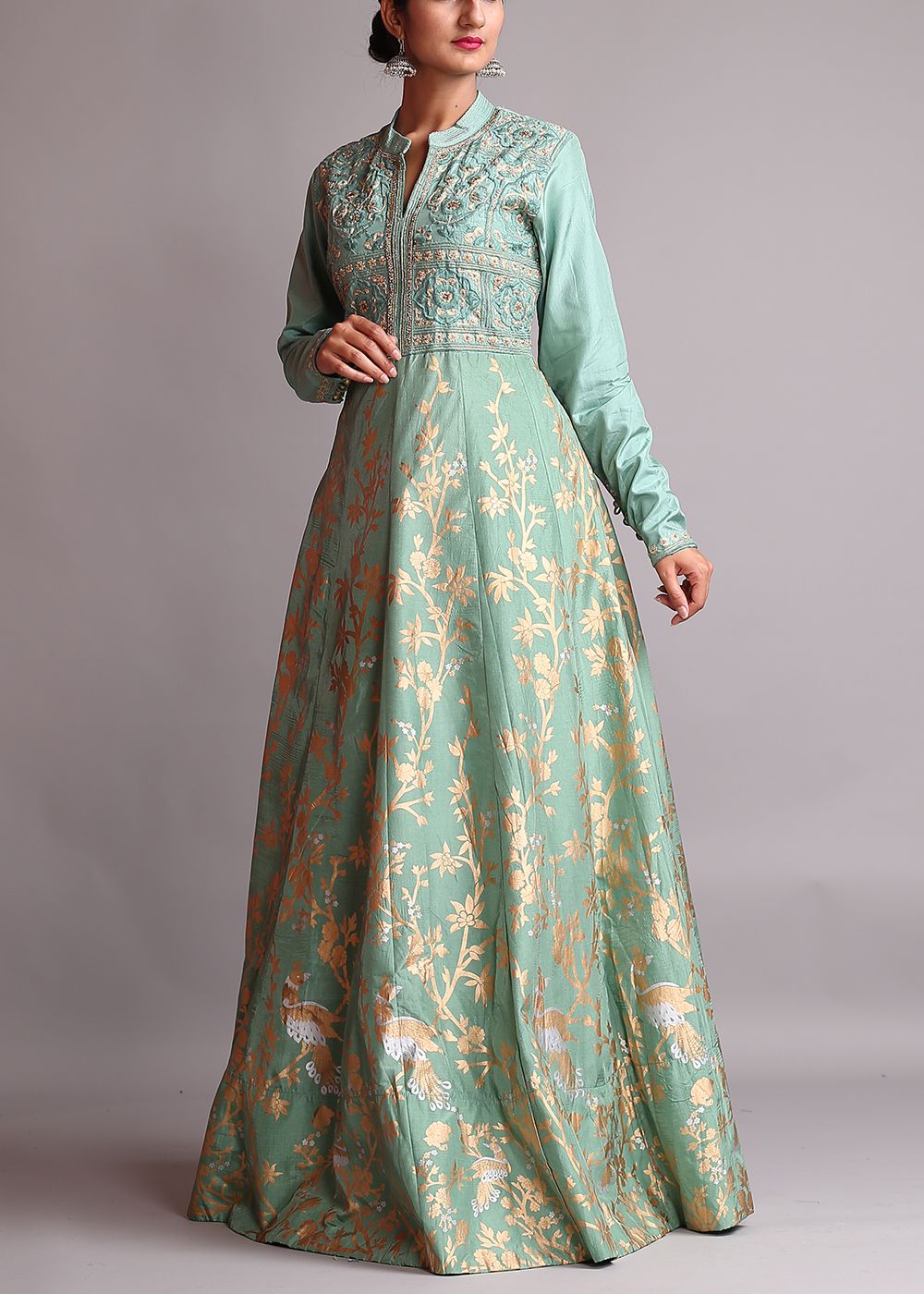 An Anarkali suit designed with close neckline and a heavy flair, with net sleeves to keep the contemporary quotient showing your arms with a brilliant flair to die for.
6. Orange Anarkali Suit for Wedding Party
Just like the red color depicts fire, orange color depicts Sun, another very important component. This signifies energy and light, a proper wear which characterizes an independent woman and a woman with substance.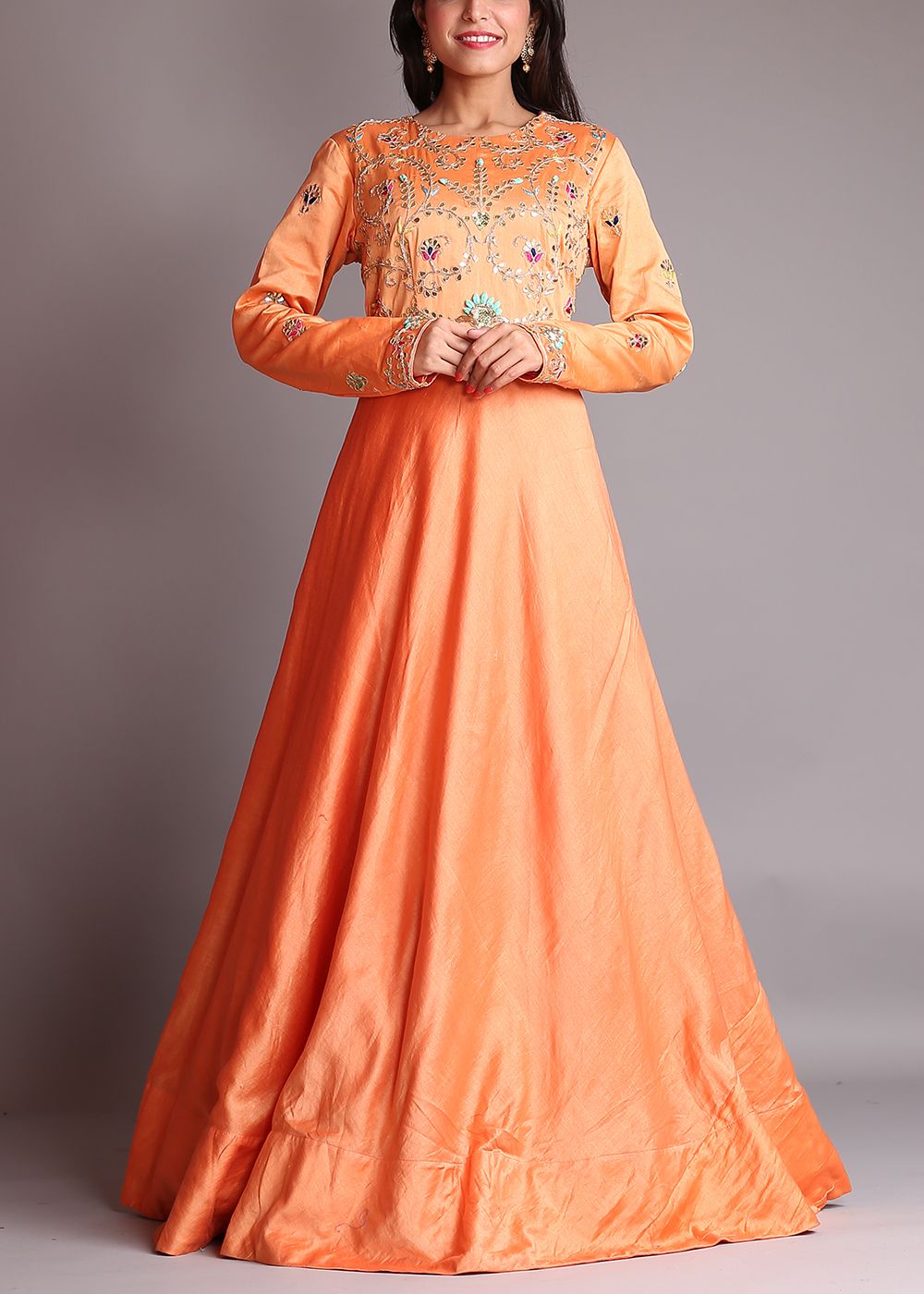 Cheerful shades and a tinge of design with oh-so-beautiful neckline make you stand out from the crowd. With this ensemble shine your way to the hallway.
There is a humongous demand of Anarkali dress for every event, such as sagan, ring ceremony or even for the wedding party.  It's properties like easy to wear and it doesn't require assistance in draping and setting just like a saree.
Limited exposure to the skin as compared to Aaree, Anarkali dress makes you look exquisite in all possible ways. It is a matter of pride why Indian brides prefer designer Anarkali dress over evening gowns.
It makes you look tall and slender as well as makes you look in perfect resonance with the attire. That is why, this Indian- Western combo is the most loved array of today's women and a must have an ensemble to fill your wedding trousseau with. Vasansi can be your utmost favorite for ethical reasons. The fact is you will get addicted to it. Latest trends, right fit and perfect pricing… They are the game!
There has to be a touch of the flavors of India in the apparel which is as important as the event. A legacy to be carried all the way from the past 400 years and is promised to go another 400 years, to be the most desired wear by the brides and the women across the nation.
Hope you find these long Anarkali suits idea useful. See you again with some more fashion style updates.