4 Classic Suit Styles to Add to Your Wardrobe This Year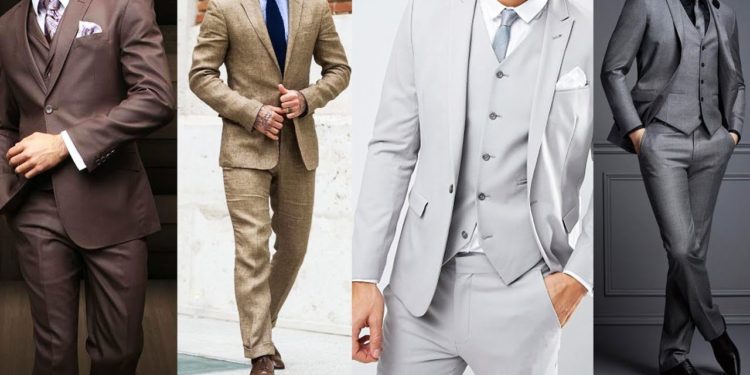 There comes a time in every man's life when he looks into the depths of his closet and realizes that he is lacking an essential item — a classic suit.
While trends come and go, suits are a timeless classic-type of style. The right suit will have you exuding confidence. It will present you to the world as a sharp and sophisticated fellow. Members of the opposite sex will describe you as "handsome."
Suits are powerful things.
If you are ready to win some extra style points and take your clothing game up to the next level, read on to learn about the four classic suit styles to add to your wardrobe this year.
1. A Sophisticated Petrol Blue or Navy Suit
Whether you wear a suit to work every day or are just starting to build your collection, a classic petrol blue or navy suit is an essential and the perfect piece to start adding to your wardrobe. As long as it is tailored correctly, a navy suit gives off a sophisticated vibe and can seamlessly transition from day to night.
When it comes to silhouette, single-breasted jackets will always be en vogue and should comprise the majority of your suit collection. However, a double-breasted jacket is ideal for a man who is thoroughly comfortable in a suit and wants to project an image of power and poise.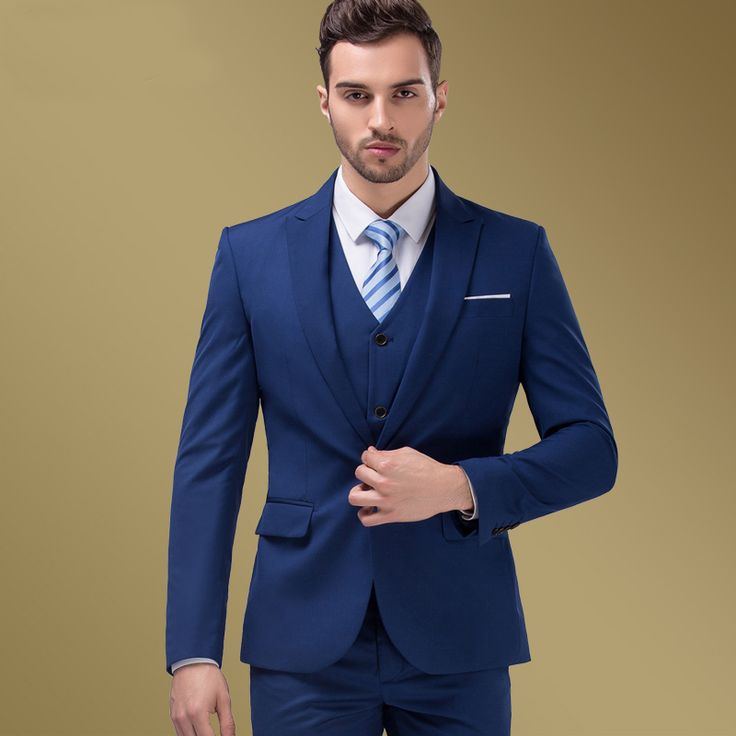 The styling options for a classic navy suit are endless. In fact, navy blue is considered a neutral due to its ability to be styled with almost every shirt-and-tie combination on the market. Plus, it can be worn with more casual shirts, T-shirts or knitwear for a more relaxed look. That isn't all — wear the jacket by itself as your go-to blazer and pair with jeans. How is that for double duty?
Pair your petrol blue or navy suit with brown or burgundy shoes for a classic but stylish outfit.
2. A Dapper Gray Suit
Once you have a classic navy blue suit, it is time to start expanding your wardrobe to include additional options. Many men are finding that a gray suit is a valuable second addition as it is another versatile must-have for the contemporary working man. While slightly more casual than a black suit, a dapper gray suit is still appropriate for semi-formal office wear and dressy nights out.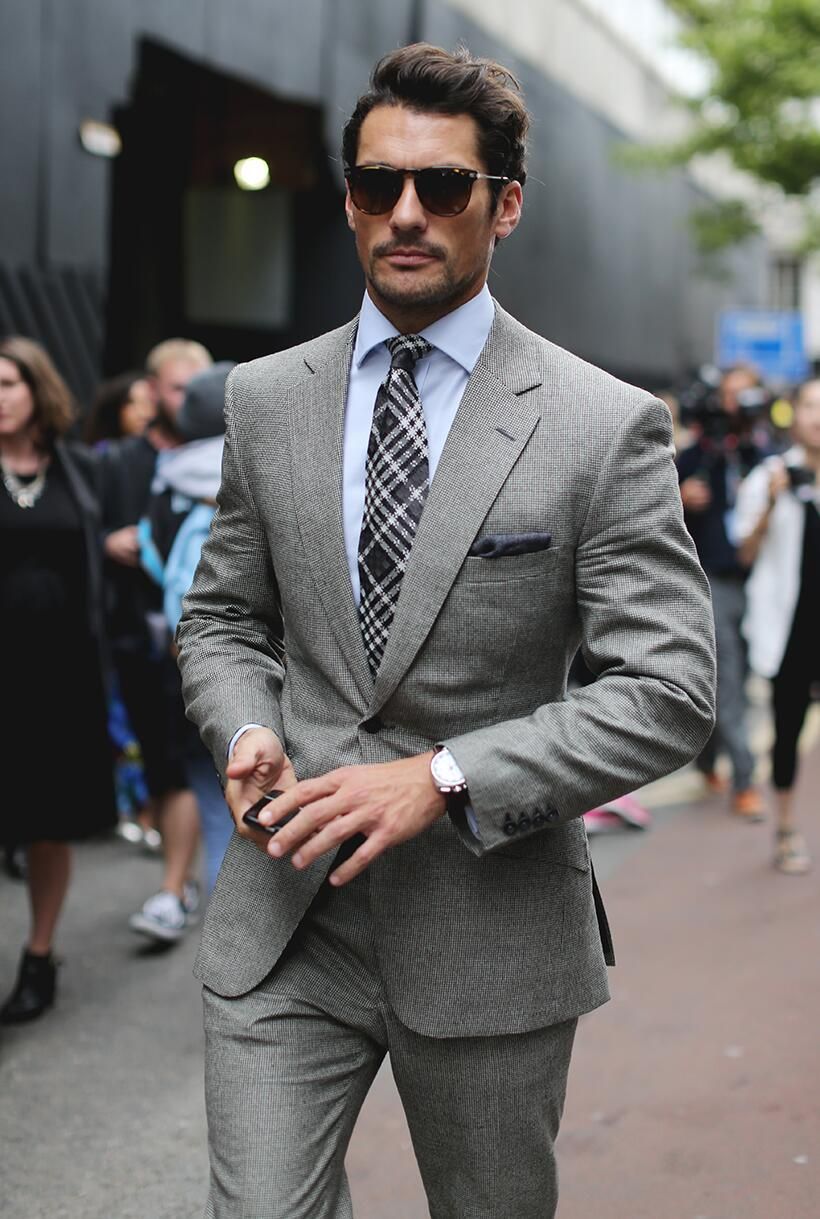 Generally, the lighter the gray, the more casual the suit, which is crucial to keep in mind when shopping around. In order to settle on the appropriate gray-colored suit for you, give some thought to your lifestyle and your job requirements. You don't want to end up with a dazzling outfit that doesn't get any wear!
One of the merits of owning a grey suit is that it provides the perfect base for you to express your personality. Play around with colors of shoes and designs of belts to make the look uniquely your own. A grey suit can be paired with black, brown or burgundy footwear (or something else entirely, if you are willing to take a little risk).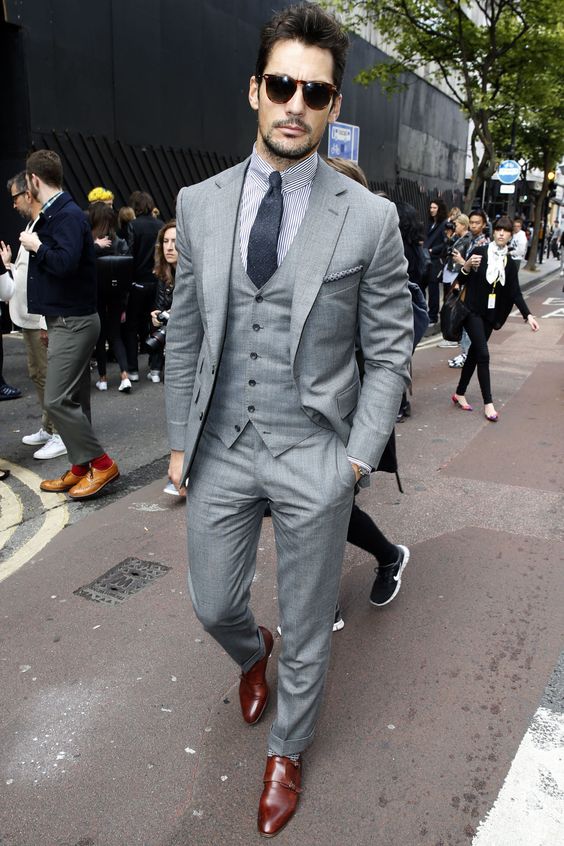 No matter how you choose to style it, owning a grey suit is a surefire way to ensure you look dapper and crisp throughout the year.
3. A Contemporary Tan Suit
For the hot days and warm nights when you want to appear cool and fresh, the tan suit is the one. Undoubtedly the most casual of the styles listed here, a tan or beige suit is perfect for the summer as it usually comes in cotton or linen fabrics. For the most wearable option, if you plan to flaunt your tan suit in casual dress settings, opt for an unstructured fit.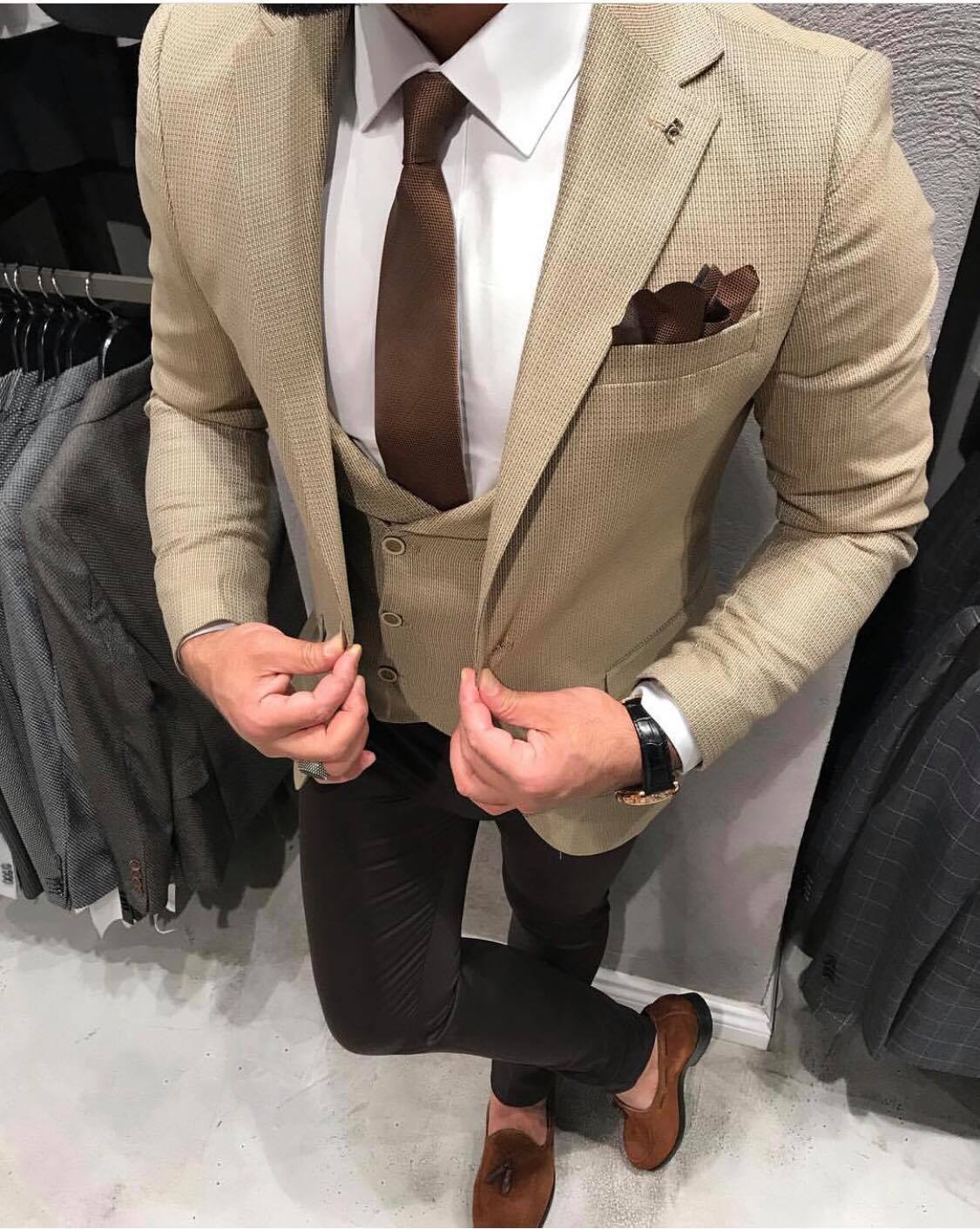 To increase the summer vibes, pair this suit with white, lilac, pink or light blue shirts. On your feet, slip on brown or navy shoes in either a loafer or lace-up style. Due to the laid-back nature of men's khaki suits, you don't need to wear a tie and can leave your shirt collar open for the ultimate summer style statement.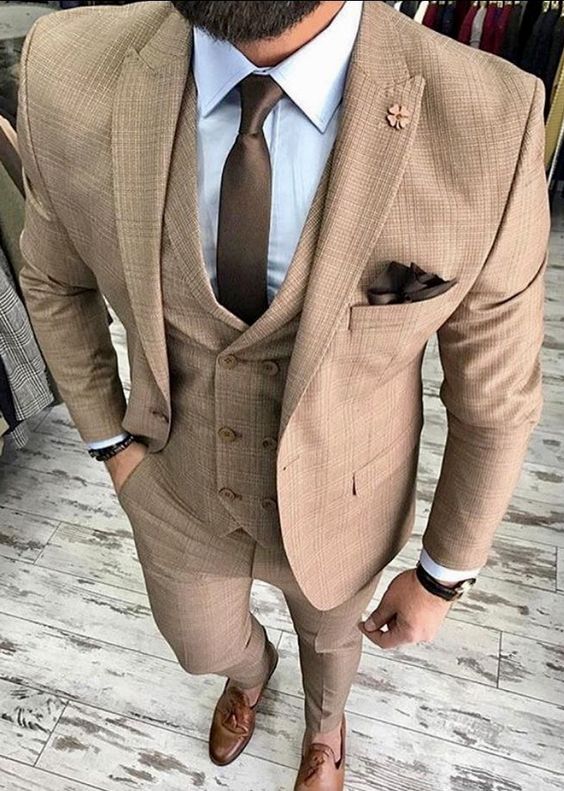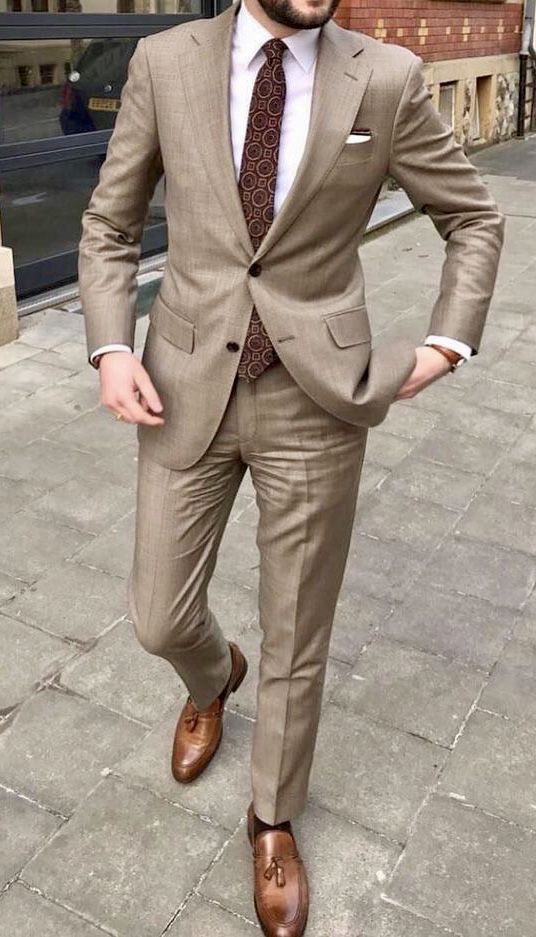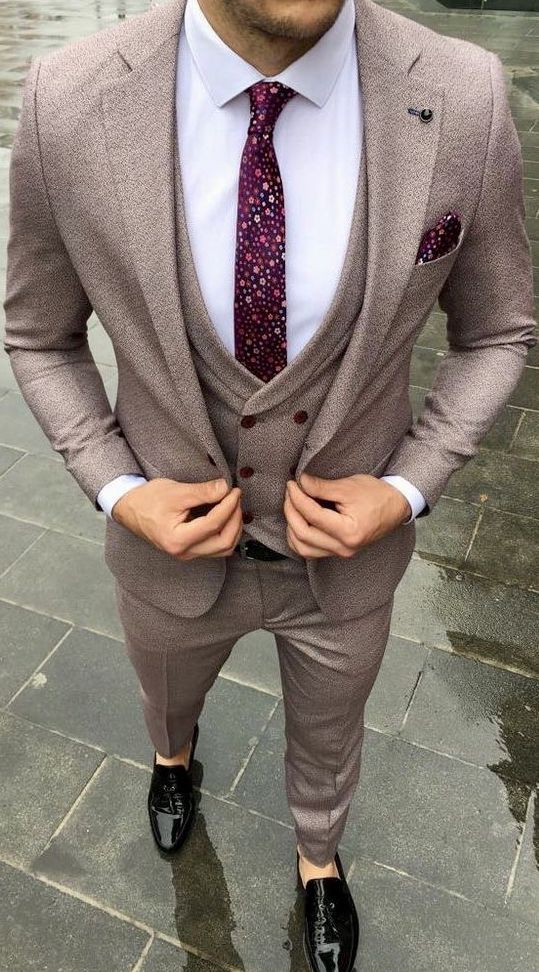 Some of the most stylish men in the world like to split up their tan suits, pairing the trousers with a T-shirt and sneakers for a weekend look, or the blazer with well-fitting denim and leather loafers for a fashionable evening out.
4.  A Striking Three-Piece Suit
Last but not least, for those men who love to make a statement, there is nothing more put-together yet bold than a three-piece suit. If you are ready to make your mark and exude confidence wherever you roam, then a striking three-piece suit is what you need in your arsenal.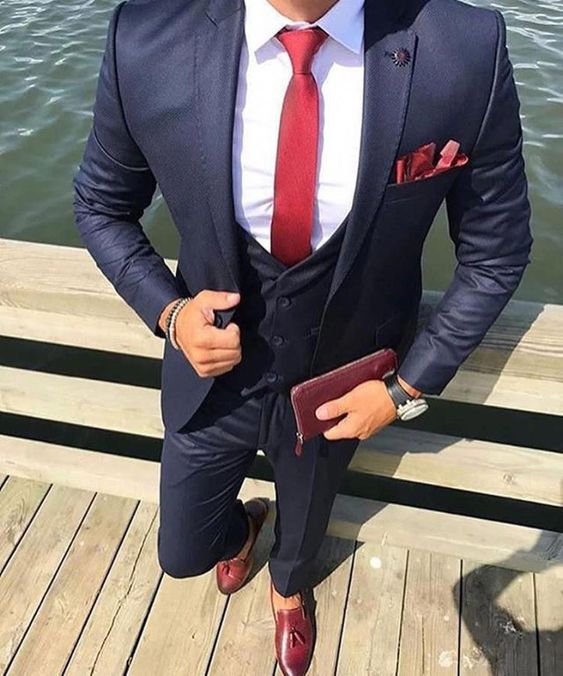 There is no denying that three-piece suits are far more formal than your typical two-piece. So, in order to get the most wear from it, you want to go for a navy, charcoal or light grey. Concerning fabric, if you are looking for a summer party piece, then comfort and versatility should be your main priorities (for this reason, fresco fabric is popular). For colder seasons, opt for one with a cozier texture, such as flannel.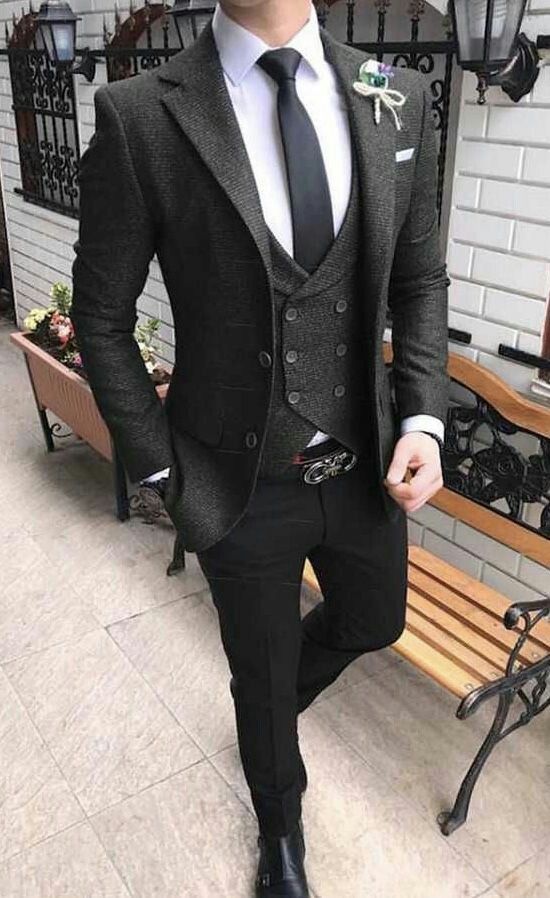 Save bold accessories for other, more low-key suits and refrain from pairing this style with bold patterned or colored shirts. Instead, let your personality trickle through with elegant pieces such as pocket squares or timepieces.
For A Great Suit…
No matter which style or color of suit(s) you opt to add to your closet this year, remember that proper tailoring is what transforms a good suit into a great suit. Remember: The fit is everything.
If you are looking to step up your style game this year, then take a look at the best online custom suits for ideas and inspiration. With just a couple of investments in your closet, you can be the best-dressed gentleman no matter where your schedule takes you.
Are you looking to upgrade your suit collection this year? What are you considering adding? How do you like to style your current ones? Let us know your thoughts and ideas in the comments below!
AUTHOR BIO
AlphaSuit is the brainchild of Master Haberdasher, Sean McKee. Over a span of more than two decades, Sean has provided custom suits to some of the most successful leaders in America. With AlphaSuit, he now brings this same premium service to you, but at 60-70% less than the traditional price.