16 Unique and Trendy Indo Western Dresses for Girls 2018
Do Indo western dresses for girls need any introduction? We don't think so, Indo western dresses for female are getting huge popularity and acceptance, you must have heard and probably seen the celebs appearing in these amazing outfits quite frequently.
We are living in amazing time, and Indo western dresses for girls and women are a gift of the modern times to the women who love fashion and dress up to express.
We can all agree on the fact that what we wear reflects out the state of mind and our personal style statement.
Indo western dresses for ladies is a union of the best of both worlds, blending the grace of the Indian ethnic outfits with the style and glamour of western dresses.
There is no doubt why women are raving about these beauties, Indo western dresses have a lot of oomph and uniqueness to them. And the amazing part is that you can accessories and style it in any way you want, there are no fixed rules, so girls you don't need to worry about a fashion police or a fashion nazi. Just use your imagination and creativity and be an absolute diva.
Most of the Indo western dresses for girls suits all body types, as you read it right! The silhouette and cuts of most of the outfits are like that they accentuate almost all body types.
Today we have conjured up the list of some really unique and trendy dresses that you can wear on any occasion and flaunt your style!
1) Low-High straight kurta:
A slight twist to the hemline has made a simple kurta so fun and trendy.
How to style: Instead of pairing it with simple churidars or leggings, team it up with trendy bottoms like a Palazzo, Cigarette pants and for a hip look, try with the dhoti or tulip/petal pants. For heavier look, wear it with a skirt.
When to wear: There is no restriction when to wear this outfit, the right choice of the bottom will do the magic for you with this kurta particularly.
You can wear it for office, day out and for some special occasions also accessorized with some chunky statement jewelry.
Who can wear: Women with thick legs and heavy lower body, pair this kurta with loose bottoms like palazzo or straight pants, and low flair skirt.
Women who have apple body type can wear this indo western dress with palazzos, parallel pants, and skirts except for churidars
Women with straight body type to create curve should wear it with skirt or palazzos.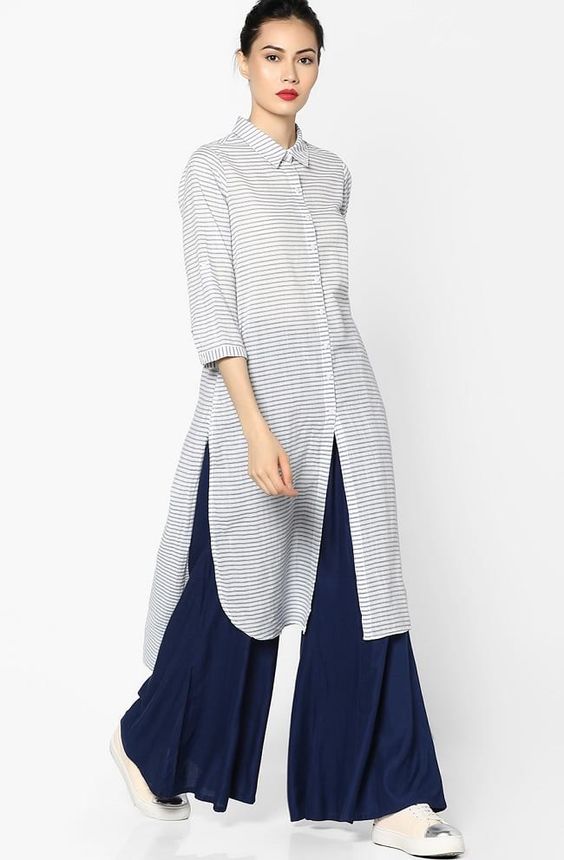 Low-High kurta with a skirt is quite dressy, the blue color and the jewelry attached has made it so different than a regular straight kurti!
2. Asymmetric hemline Kurtis:
Asymmetric hemlines kurtas are the hottest Indo western dresses for girls of this season. Transform your desi look with these lively and fun Indo western outfits. Not only straight Kurtis, Anarkali dresses can also have asymmetric hemlines making them more stylish and different if that is what you are seeking, so for these dresses.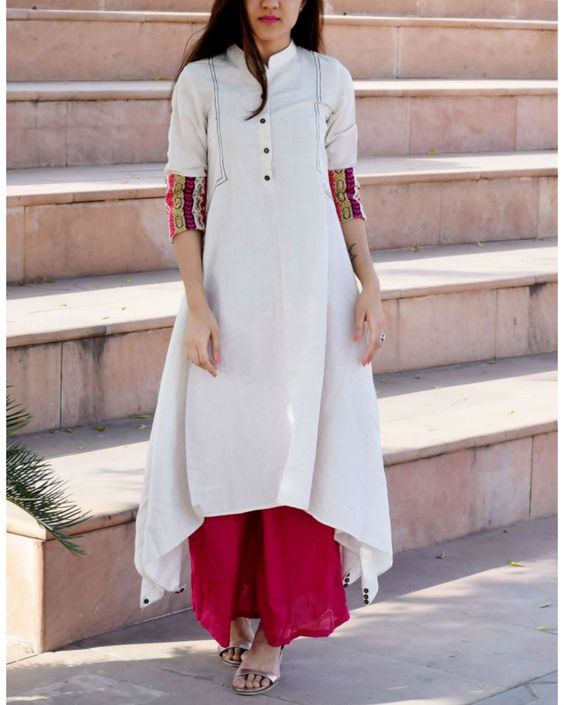 How to style: Wear your cotton asymmetric kurtas with Kolhapuri or Gladiator sandals for a chic style. Also, try some oxidized jewelry to give it a complete look.
When to wear: Suitable for a casual party and meet up, college and office going girls can also wear for a change. Silk, satin fabric kurtis are great for evening parties or get together.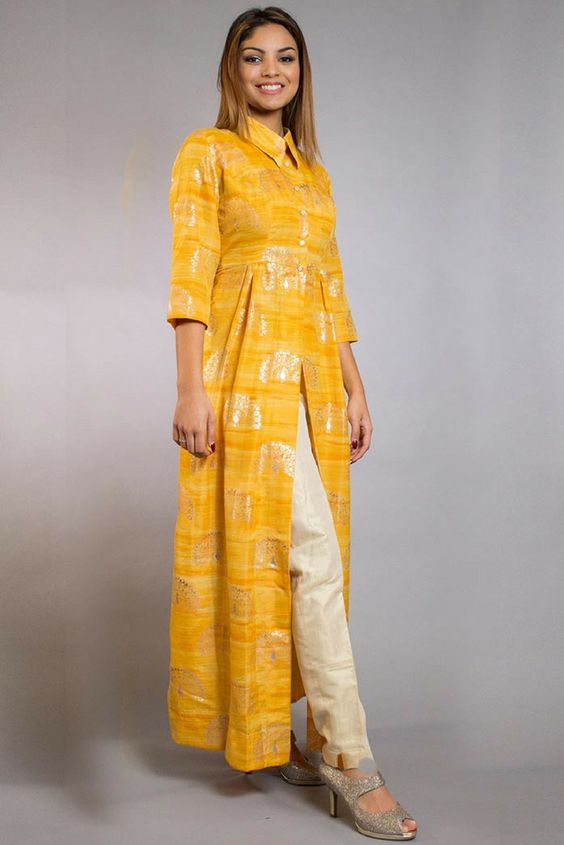 3) Shirt style kurti:
This kurtis are a must have if you don't have in your wardrobe yet. Versatile, stylish, graceful and sophisticated, this kurtis are an absolute favorite of women of all ages. From a perfect go-to dress to an extremely glam look, you can create any look you want with this kurtis.
These Indo western dresses for girls are highly popular among the working women at present.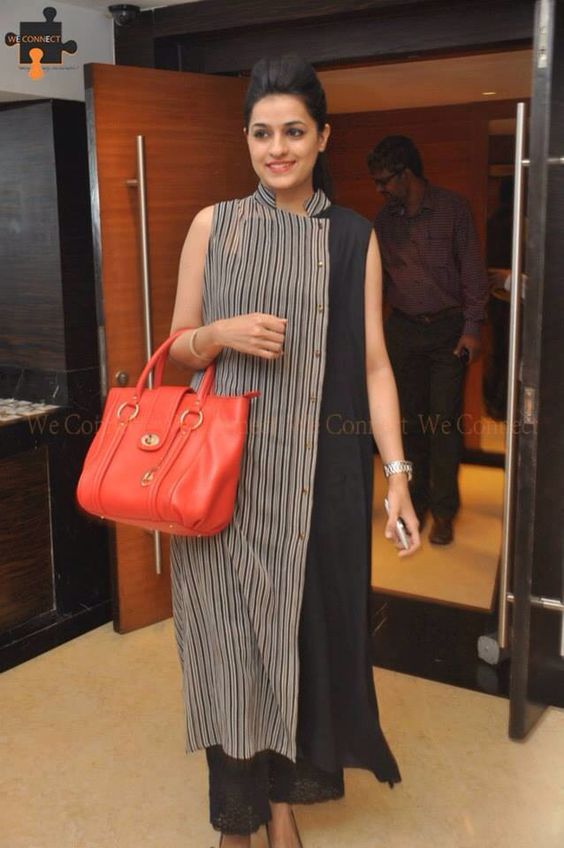 How to style: College going girls can style it with ripped denim for a funky look and working women can go for pants or churidars for a semi-formal look.
Also, team up with matching stoles and flat footwear.
When to wear: As you are reading, this style of kurtis are all-purpose except for the occasions like wedding or festivals where you prefer more ethnic and heavy looking outfit.
Who can wear: Suitable for women with all body types, women with apple body try to pair it up with loose bottoms to achieve proportion.
4. Long Kurti with drapes
These not so recent indo western style for girls are simply stunning, you must have seen Sonam Kapoor flaunting this beauty like a diva, who she is without any doubt.
This Indo western outfit for girls is perfect for that lazy day when you don't want any hassle and still look trendy with this cowl draped kurti.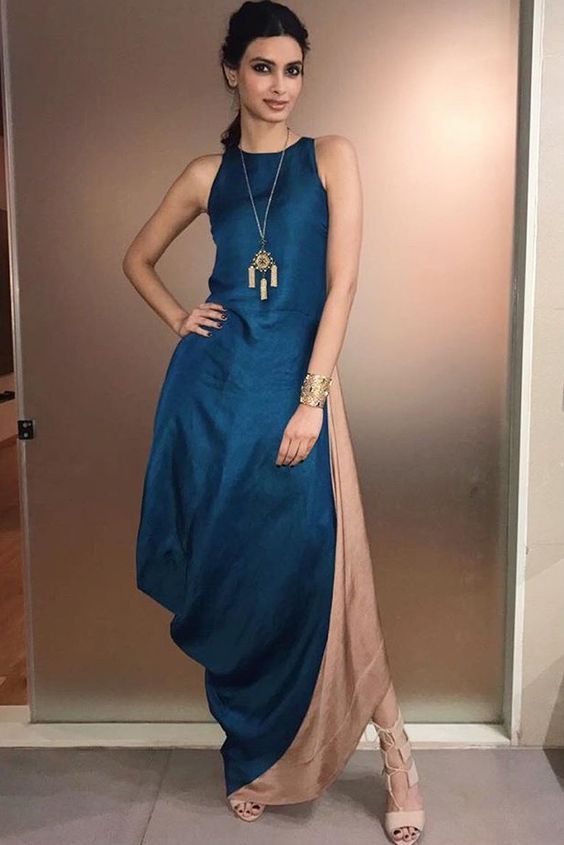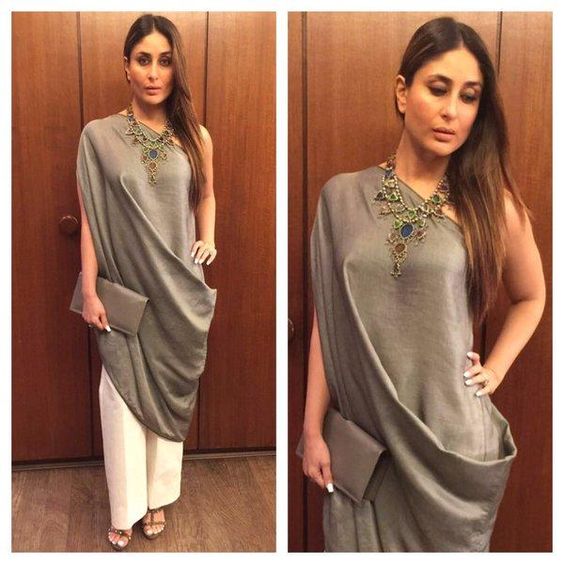 How to style: You don't need much with these kurtis as they are pretty bold in style, but for more drama add silver or copper necklace and handcuffs.
When to wear: Perfect for the gala, cocktail events and can also be for a casual day outing or small events.
Who can wear: This is a gem when it comes to who can wear, women of any body type can don this beauty! It's a perfect Indo western dress for all body shape girls.
5) Ethnic jackets with denim
Adding Ethnic jackets to your western outfit is the smartest way to light up the whole look, to make your own style statement noticeable.
You can choose jackets of any length; long jackets for more drama, short jackets for a funky and youthful look. This is a multi-purpose Indo western dress for girls and women.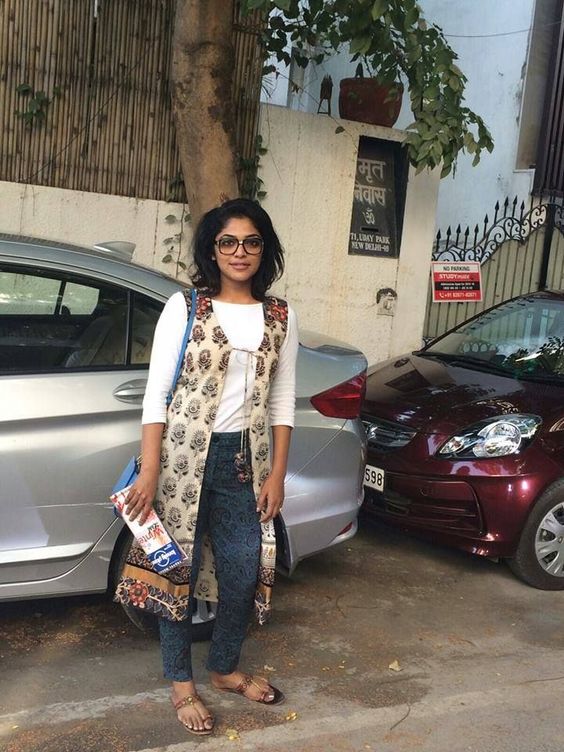 How to style: We think its style on a budget, take out your ethnic jackets and team it up with your denim for a glamorous chic look.
When to wear: These Indo western dresses for women are best for any occasion and evening parties or events.
Who can wear: These Indo western dresses for ladies suits all body types.
6. Jackets with dress
Save your money by reusing the old western dresses that you are bored of wearing and create a unique indo western outfit for females by adding ethnic embellished jackets to them. All you need is little creativity and imagination to achieve extremely stylish yet classy look!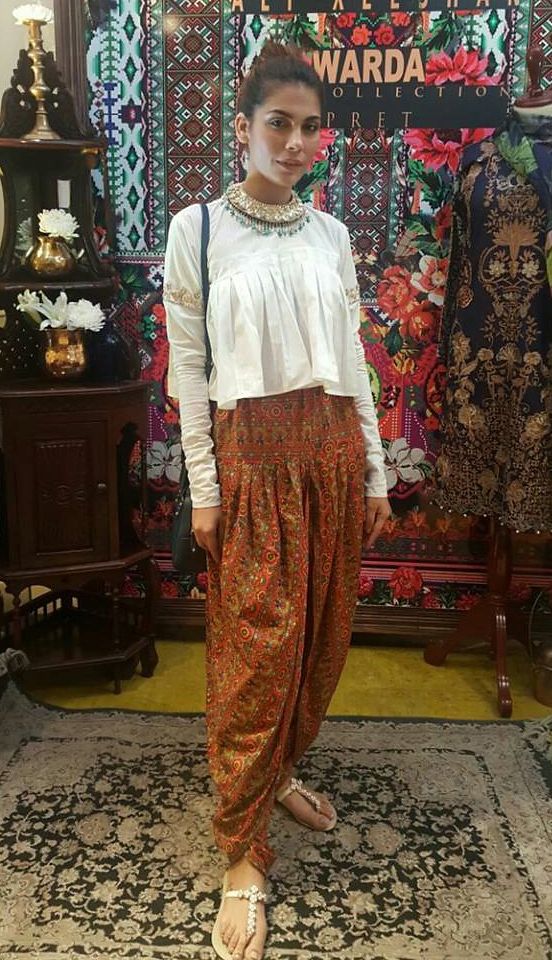 How to style: Well Jacket in itself is here an important accessory, add some pieces of junk jewelry complimenting the whole indo western look.
When to wear: Best for evening parties or casual meet up.
Who can wear: Jackets are for every woman out there.
7) Anarkali Gowns
These are absolute favorites, and we are sure it is a favorite of all the ladies out there. Again a great blend of east and west, Anarkali gowns are classy, stylish and simply stunning Indo western dresses for girls!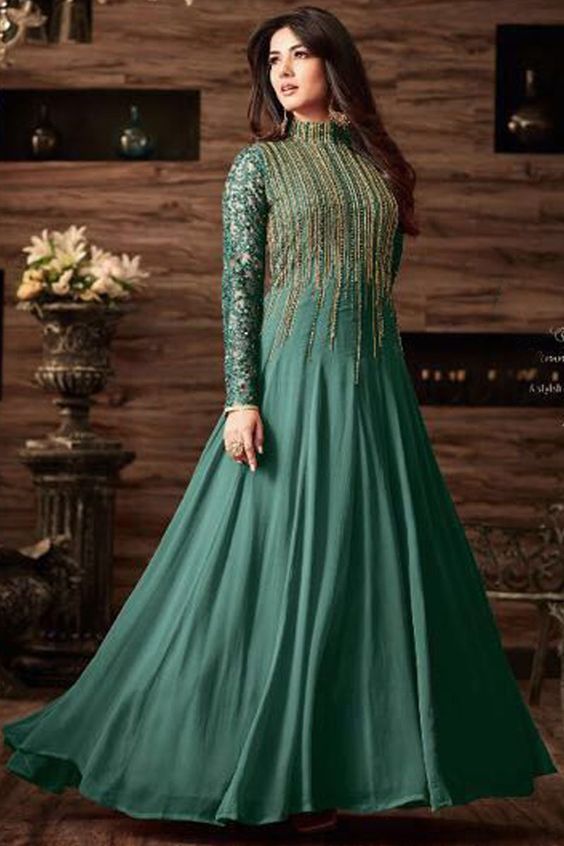 How to style: Big statement earrings and stilettos are sufficient to complete your classy look.
When to wear: Anarkali Indo western style Gowns are perfect for any special occasion like wedding ceremonies, festivals and also for cocktail parties!
Who can wear: Anarkali gowns accentuates every body type, adorn this perfect beauty and feel nothing less than a princess!
8) Long Anarkali dress styled with Jacket
Anarkali suit is an attire that is for everyone, you just feel magical like a princess. Anarkali jackets take this feeling to another level. For more dressy and heavier look, go for a jacket contrasting or matching but complimenting your Anarkali which will Give it a perfect Indo western dress look.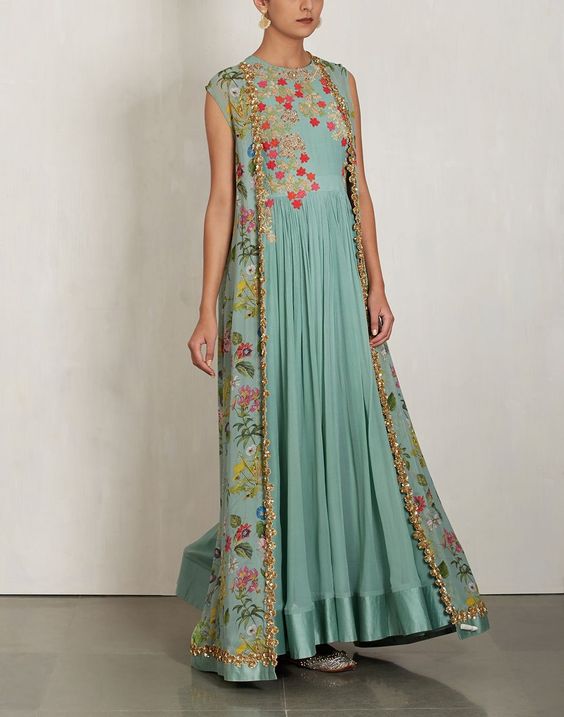 How to style: To avoid overdoing your look, choose the jewelry as per the occasion.
When to wear: Suitable for Indian festivals and other occasions, brides can also choose to wear this Indo western dress for women on  mehendi, sangeet, even on engagement.
Who can wear: Women of all age group and body type can wear it.
9) Casual shirt with Silk skirt
Thanks to designer Gaurang Shah for reigniting the love and opulence of silk again. Many celebs have been sporting this unique combination of casual shirt and silk or banarsi skirt. These chic style Indo western dresses for girls will get you tons of compliments as soon as you enter any event.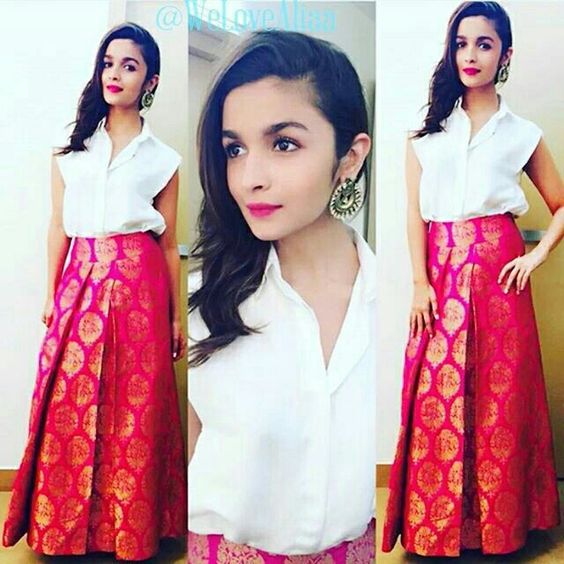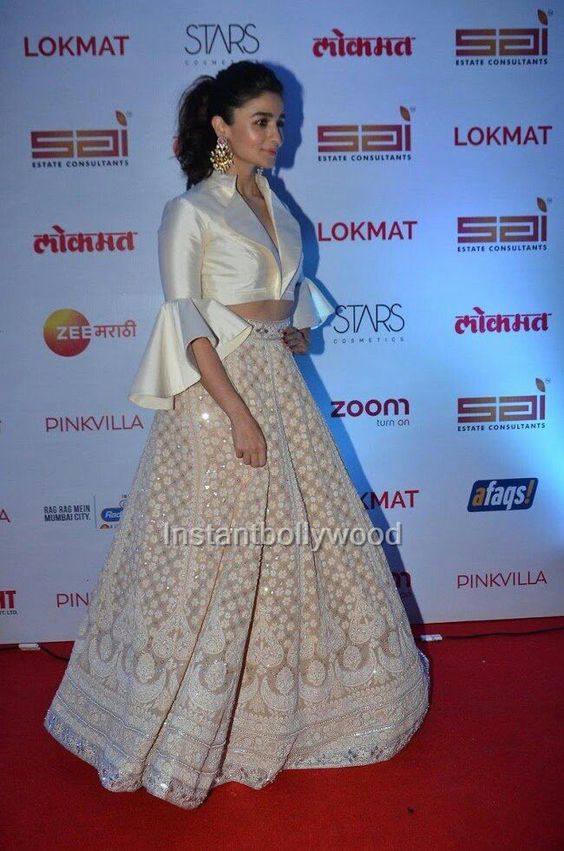 How to style: Junk or bold statement jewelry with a statement clutch will complete the look!
When to wear: Great choice for festivals and for a wedding guest as well as for the sister of a bride or groom.
Who can wear: This Indo western Suits the women of all body types as the silhouette create the illusion of a curve.
10) Kurtis with capes
Capes, once a part of military dress ensemble have become a popular fashion accessory, and now its Indian wear is also under the spell as how a majestic look a cape create.
Capes have increased the number of choices and given us the reason to be more stylish and gorgeous. There are capes with Anarkali, straight kurtis and also with sarees. There is no limit how you can play with this amazing Indo western dress for girls.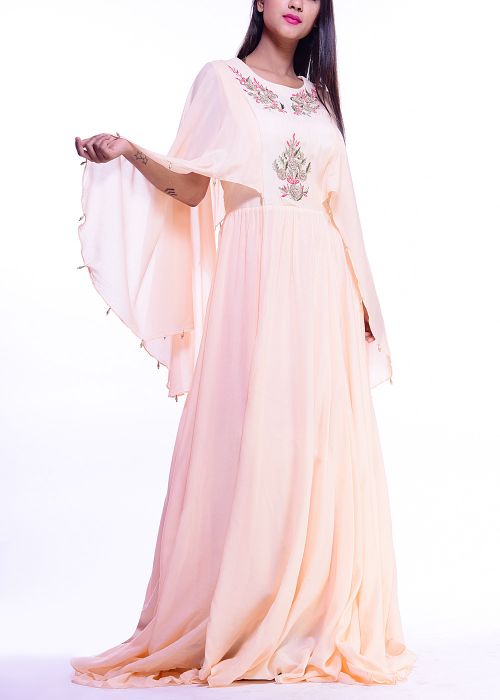 How to style: Go for big traditional or statement earring and avoid wearing chunky neck pieces.
When to wear: Capes are a trendy piece of the outfit, they are good for a casual hangout and also for weddings and festivals.
Who can wear: Women with heavy bust try to get the right size and design of the cape. It's a great option for women with a pear shape body to create balance.
11) Short Anarkali with Denim
Short or knee-length Anarkali with denim is a great way to restyle your look and reuse your old forgotten Anarkali to create a dashing Indo western dress for girls.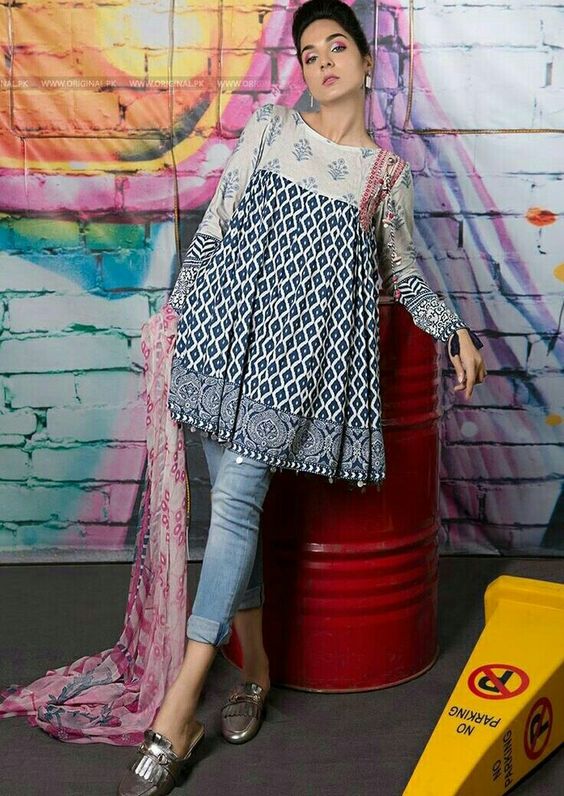 How to style: Keep the accessories minimal with this outfit idea. Studs and a sling bag will do the job for you!
When to wear: Best Indo western for college going girls to bring the freshness in their regular outfit, day outing and meet up.
Who can wear: As Anarkali suits every body type, any women or girl with any body type can wear it.
12) Dhoti style skirt with top
Dhoti style skirt or bottom with a fitted crop top or blouse is one of the bold and edgy outfit ideas. This sensuous Indo western outfit will turn every head wherever you go, this indo western look is for the quirky queens!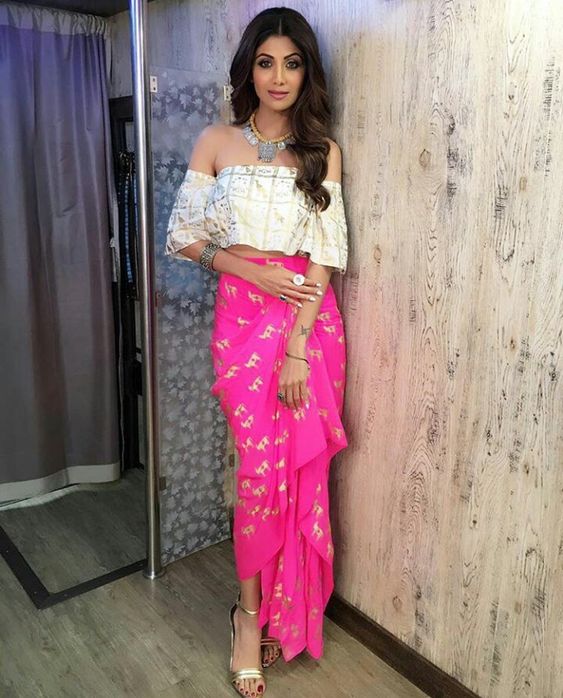 How to style: Depending on the blouse, decide the accessories, don't go overboard! Mojris, flats, and kolhapuris are one of the best ways to style this Indo western outfit for girls.
When to wear: This outfit is great for a bride to wear on different wedding ceremonies as well as for her bridesmaid or sisters.
Who can wear: Just be little smart and careful with this silhouette, women with apple shape body might want to wear it with a jacket and so the women with pear shape body to downplay the areas they don't want to call the attention. Women with straight body type can wear it without the jacket. Design of top or blouse also makes a lot of difference to bring out the proportion.
V- neckline, off shoulder is great for the pear shape body while women with apple shape body try to avoid tops or blouse that adds the volume to the upper body.
13) Dhoti Sarees
We just can't get enough of these absolutely stunning sarees that are wooing the modern women with its style and glamorous look.
Another unique and perky choice for those who want to wear saree with a twist. Pants with dhoti saree is another stunning version of this Indo western attire.  It's just a  fashion on fleek!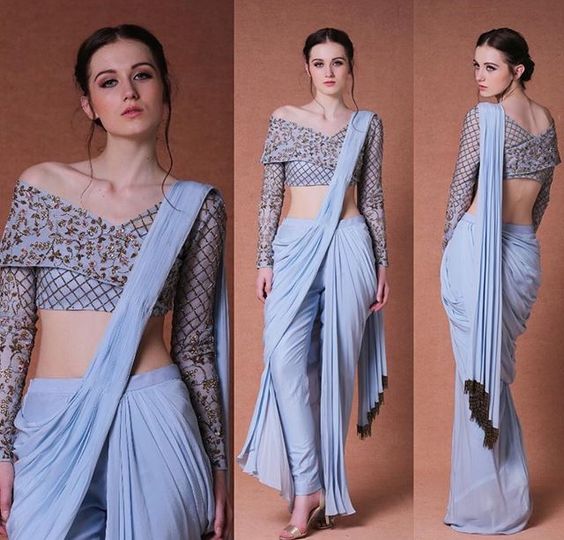 How to style: To keep the style sleek, contemporary pieces of jewelry are the best.
When to wear: Suitable for any special occasion.
Who can wear: Undoubtedly women of all type can adorn this beauty!
14) Saree Anarkali
This design of Anarkali is a smart creation with the attached dupatta and a draping like a saree, This is an exclusive indo western dress for women and can be bought from Vasansi Jaipur only.
How to style: There is no rule to how to style it, anything that matches and compliments your dress would be perfect.
When to wear: Perfect for brides, sister of the bride and the wedding guest to have something different
Who can wear: This is for all lovely ladies out there but not for oversized!
15) Long Kurti with Palazzo
Long Kurtis with Palazzo is a great Indo western outfit idea for girls that is being sported by women of all age group and from all walks of life lately. These loose fitting pants are comfortable and also has a style factor.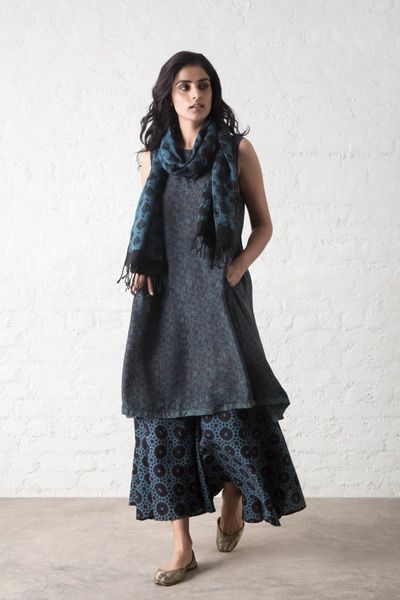 How to style: Type of kurta decides the whole look with the Palazzo, though kurtis of all length go with the Palazzo.
When to wear: Palazzo is gradually becoming the staple, you can wear it for any occasion or event.
Who can wear: Palazzo is for everyone, they conceal the heavy butts and thighs and also bring proportion to the women with apple figure.
16) Salwar Jumpsuits
Salwar style jumpsuits are the bohemian looking very cool indo western outfit. Women who keep seeking something different must try this hippy and exotic outfit.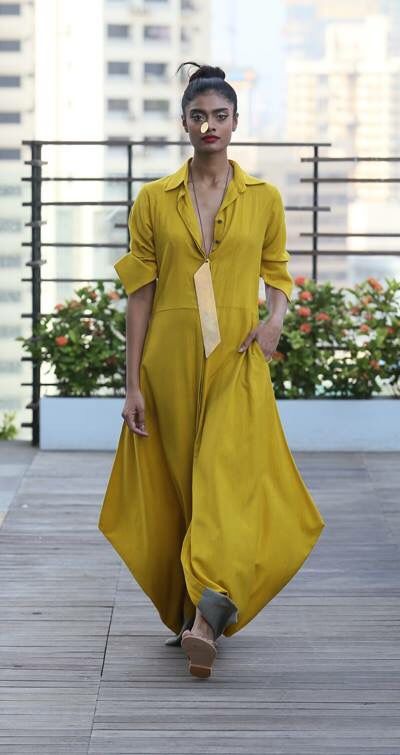 How to style: There is not much required with this outfit, however, you can go for some quirky jewelry.
When to wear: This funky dress is suitable for family and friends gathering, a themed party, day outing.
Who can wear: Although it suits all the body types, just pay little attention to the neckline before buying it.
So these were 16 unique and trendy Indo western dresses for girls of 2018, comment down your views about these dresses.