Dangle, Hoops, or Studs: Which Earrings Are Right for Your Outfit?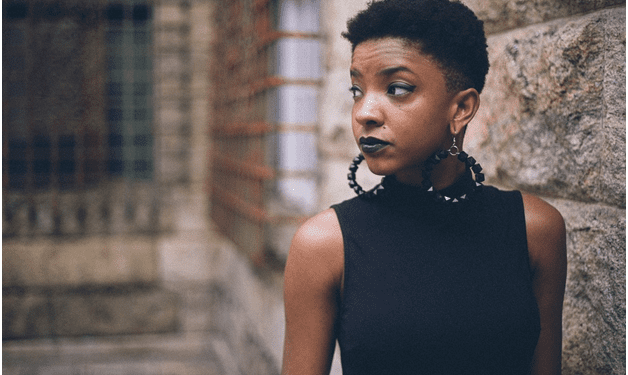 Because they frame your face, earrings are often the first piece of jewelry that people notice in an outfit, meaning they are an opportunity to make the best first impression!
The right pair can help make your entire ensemble come together, creating a unified, thoughtful, and fashionable effect.
However, you'll want to adapt your earrings to your style goals, and there are a few considerations to make when selecting the right pair.
We've put together a handy guide to help you decide when and how to wear classic styles, so you can smash it out of the park for your next party, date, job interview, work presentation, or girls' night out.
Add Some Personality with Hoops
Hoops are synonymous with attitude, offering a bold finishing touch. Larger options may not be an appropriate choice for your next job interview or meeting, but they are perfect for weekend fun.
A pair of plain or embellished hoops can be the perfect way to elevate a simple t-shirt and jeans for errands, a bodycon dress for nights out, or dressing up a button down blouse.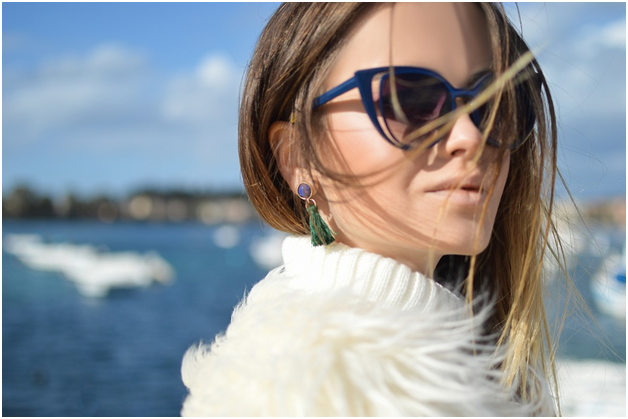 Like dangle earrings, large hoops look great when you are showing a little more skin, such as with one-shoulder or halter blouses and dresses, as these will help draw the eye to your neck, collarbone, and shoulders.
Smaller options can be a fun way to wear this style in a more work-appropriate and conservative way.
If your office is slightly more relaxed with its dress code, these can add some shimmer to your go-to pencil skirt and blouse combo or add a girly touch to more formal trousers or even suits.
We'd advise that, if you are rocking this style with office attire, you keep the size of the hoops under a ½ inch to make sure you maintain a professional vibe.
When to Don Dangle Earrings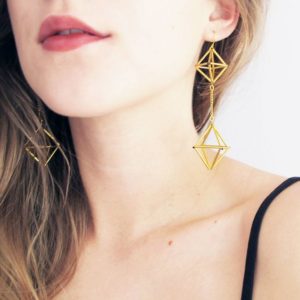 Dangle earrings, such as classic drop, chain link, or the newly-popular-tassel style, are a great way to add some easy glamour. These look fantastic with off-the-shoulder blouses and dresses or any outfit that calls for a soft, feminine accessory.
That also includes wedding gowns! Similarly, they are ideal if you plan on wearing your hair back in braids, a bun, or a ponytail, as they draw attention to your neck and shoulders for a flirty, romantic appeal—and for some hairstyle inspo, take a look at our summer hairstyle post featuring plenty of pretty and easy updo options!
Whether your taste includes more refined fine jewelry or playful fashion jewelry styles, there are plenty of options out there to suit your style. Just remember, when you wear bold earrings, it is sometimes better to skip adding a necklace as well.
Go Glam with Chandelier Earrings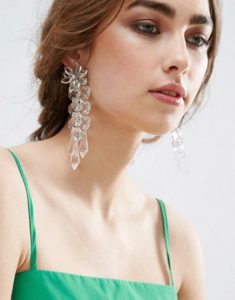 Every woman needs a knock-em-dead pair of chandelier earrings in her jewelry box! As their name implies, these are opulent and elegant.
Break them out to go with your favorite cocktail dresses for parties, weddings, and other formal events. Luxe fabrics like silk, chiffon, and satin call for accessories that are equally sophisticated, so opt for an elaborate pair with lots of detailing.
Chandelier earrings can also be a nice way to punch up a dress made from a more casual material, like cotton or linen, so that it fits the bill for a refined night out.
If you work in a creative field, chandelier earrings may be adaptable for the office from time to time, as long as the rest of your look involves crisp lines and neat tailoring, so you don't appear too over-the-top.
Culottes paired with bodysuits or plain t-shirts (with or without suit jackets for the office) have been all the rage this year and help balance more eye-catching jewelry with a clean and simple silhouette.
Stud Earrings Are a Perfect Staple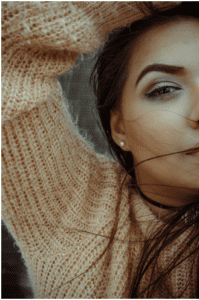 Studs are incredibly versatile and easy to wear—and with a variety of styles, including a simple bead or ball, you'll be able to find a pair for almost any outfit.
These are a no-brainer for preppier ensembles, as their dainty, streamlined look adds subtle refinement to laid-back separates.
If you're into the athleisure trend, studs also help you take your favorite leggings and crop top from that Saturday morning barre class to weekend brunch in no time.
These are also a nice way to balance out more eye-catching wardrobe choices, such as heavily beaded or sequined dresses or tops, so that your jewelry doesn't compete with your outfit.
If you are a makeup maven and are going for a bold makeup look, studs can also be a nice choice if you plan on wearing bright lipstick or smokey eye makeup, so you can avoid that "overdone" appearance.
Between standard diamond and pearl options to more modern takes on that include fun shapes and designs, you can't go wrong adding these to nearly any look.
Crawlers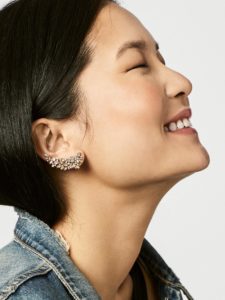 From the sleek and streamlined to the super sparkly, crawler earrings are a fun, creative style to wear with a multitude of outfits. Named after their unique shape, crawlers have a post backing, but the earrings "crawl" up your ear instead of descending from your ear lobe like traditional drop or dangle styles.
Crawlers add a lot of glamour but, due to their trendy shape, they might be a little too edgy for outfits that you typically wear to more formal events.
Rock these earrings with your best going-out attire and boho pieces. Pair these beauties with your favorite trends like fringed tops, button front skirts, floral prints, and cut out rompers, dresses, and jumpsuits.
No matter what your default style is, earrings can be a fantastic opportunity to play with new looks and express yourself in new ways. The next time you get dressed, consider trying a style that will enhance the rest of your ensemble, and most importantly, have fun getting dressed.
The best accessories help you look and feel confident, polished, and ready for anything!
Author Bio:
Constante Quirino is a freelance writer and content strategist who has worked with a number of emerging companies and up-and-coming designers. A passionate yogi for several years, he is an advocate for healthy, balanced lifestyles.