Why We Absolutely Love Beef Jerky? Here are some healthy facts about beef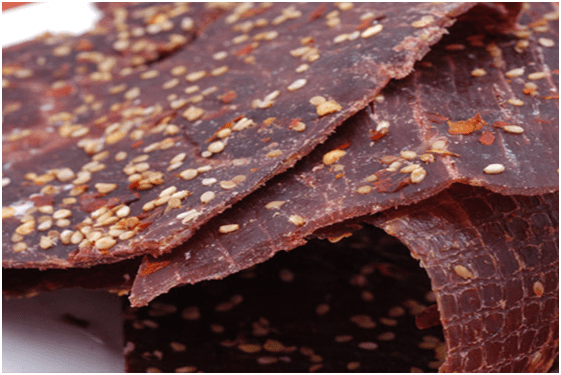 Beef Jerky is a protein-rich snack and Americans' favorite pastime. Breakfast, lunch, or dinner, beef is our all-time favorite, and we absolutely love it.
Here are some healthy facts about beef:
The healthy protein-rich diet includes essential amino acids which offer optimal health
A single ounce of meat contains 7 grams of fat (3 grams saturated) and 116 calories
Rich source of L-Carnitine, a health-promoting compound
Glutathione, an antioxidant, is also found in beef jerky. The compound offers anti-aging benefits and even strengthens the immune system
Nutrient-dense in minerals including copper, zinc, potassium and more
Healthy beef jerky prevents iron deficiency anemia
Beef is an excellent source of vitamins, especially Vitamin B12
Every 100 g of beef contains 350mg of performance enhancer Creatine
Different flavors of beef
Beef Jerky originated in the early human civilization when nomads traveled from one place to another. There was no refrigerator to store and preserve meat for a longer duration. So they required a meal that could last for weeks. This is how beef jerky was derived and quickly became popular. Even today, it is one of the favorite American treats that we love.
Now, the popular dish is available in many flavors enticing the taste buds. These flavors include:
1) Sweet and Garlic Beef Jerky
A smooth taste of garlic with sprinkles of sweetness makes a perfect beef jerky flavor. A guaranteed crowd-pleaser, the sweet and garlic beef is neither too sweet nor too bitter. You can almost smell it even from a distance, a must-try for all!
2) Honey and teriyaki beef
The flavor is irresistible and you'll fall in love time and time again once you've tasted it. The dish is wrapped with meat and honey, making a perfect sweet and salty snack. The flavors are so good it is impossible to put it down.
3) Red pepper beef
Let's face it! Red pepper is not for the faint-hearted. And you'll be looking for water once you've taken a bite of spicy red pepper beef. You've been warned! So, try one now, or you'll miss something special.
4) BBQ whiskey beef
A timeless flavor that is intoxicatingly delicious, whiskey BBQ beef is excellent for all. The dish has a bold taste of whiskey mixed with a smoky BBQ touch that is perfect for snackers. So, if you are looking for a timeless and aged flavor snack, then here's one for you!
5) Black pepper beef
Another exotic flavor for your taste buds, the classic black pepper beef is the go-to snack for every adventure. This is a popular flavor that tastes better with every bite you take. It is a trusted passenger, whether you're going to space or your couch.
6) Jalapeno garlic beef
Delight your taste buds with a feisty and fresh jalapeno garlic beef. A strong punch of garlic and heat make this snack an absolute gem. Take a bite of this wonderful jerky and thank me later. The flavor has ingredients that your stomach will be content with. On a precautionary note, keep a glass of water with you!
7) Sweet and spicy beef
Yet another classic flavor our taste buds are more accustomed to – the sweet and spicy flavors in beef. The two elements mix to create a perfect snack, which is impossible to resist. Get your hands on it today!
Beef Jerky in space
These are a few of the many flavors beef jerky is available in. And this is also among the various reasons that we love beef jerky treats. Even the astronauts cannot resist taking a bite of this fantastic treat. There have been many examples in the past where beef jerky was taken to space and enjoyed by the astronauts.
Fifty one-ounce packages of Final Frontier (black pepper) jerky, a flavor selected by NASA, were packed in STS-79 Atlantis. The ship launched into space on September 16, 1996, from Kennedy Space Center towards Russia's Mir Space Station. This was the first outer space journey of the famous beef jerky snack by BeefJerky.com. The flavor not only survived the journey but also was delightedly consumed by the crew.
This was one of the many journeys for beef jerky in space.
Order your flavor online
Popular beef jerky snacks are now delivered fresh to you through the online portals. You don't have to visit a physical store to look for your favorite meal. Now, you can choose from the different flavors available online and order right at your home. The American beef jerky stores deliver the snack right to your doorstep and within two weeks from preparation. So you can be assured that the beef jerky will always be delivered fresh.
Taste the incredible treats available in different flavors at a very affordable price. Order your favorite beef jerky snack and enjoy!