Nykaa SKINgenius Sculpting and Hydrating Foundation Review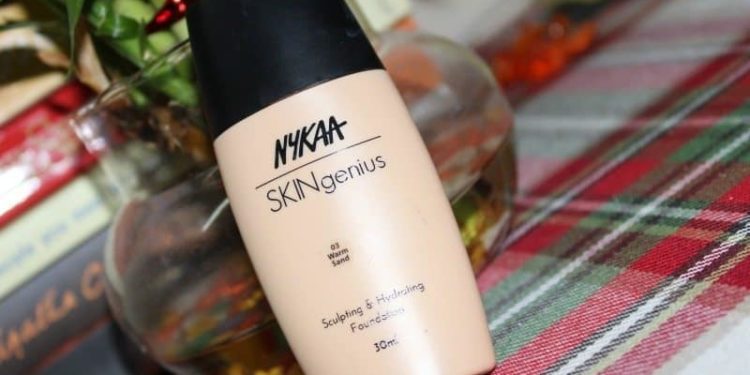 Nykaa is one of India's largest makeup brand. Every release of brand awaited and welcomed.
The product that I am going to provide a review about is the new foundation of the brand, " Nykaa SKINgenius Sculpting and Hydrating Foundation".
There are a lot of claims about the product. Let's see how much truth they hold.
The Nykaa SKINgenius Sculpting and Hydrating Foundation is launched with five shades including,
Pure Ivory 01
Almond Beige 02
Warm Sand 03
True Tan 04
Golden Honey 05
See the swatches from Left to right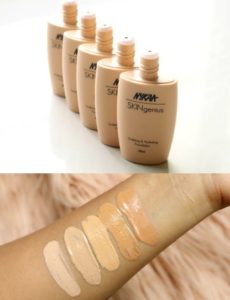 Golden Honey 05 is the shade that matches my skin tone. The product comes in a plastic bottle with a black cap on it.
Personally, I do not like the packing, because there is no way to put the accidental amount back in the source.
The biggest claim about the product that it is equipped with the color adjustment technology. It means if you accidentally bought a one lighter or one darker shade than your skin tone, then there is no need to be worried about it, it will adjust according to your skin tone.
I tried two shades, one that is an exact match and one a little lighter. This claim proved right for me.
One of the other claims is its staying power, it is right too. The foundation can stand for 6-7 hours. The other thing is it is hydrating and give a natural shine to face. Here I do not agree with the statement, because I did not experience any shine. And for hydration power, it is hydrating but sticky thus, irritating. It is may be a problem with my skin, because it is too oily. I settled it by using powder puffs. The product is way more good for dry or normal skin than the oily one.
They claimed sun protection, but there is no SPF mentioned on the skin.
The product has some pros and cons.
Pros:
It is long-lasting, easy to blend and adaptable to skin color.
Cons:
1) It is sticky to oily skin, no SPF mentioned and uneven coverage.
2) The packing also needs improvement.