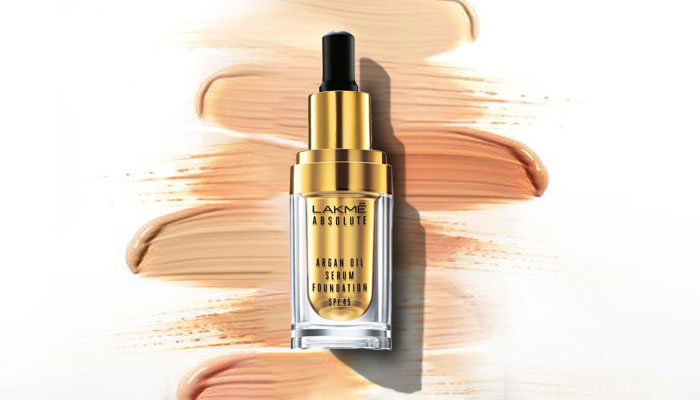 Lakme Absolute Argan Oil Serum Foundation With SPF 45 Review
Lakme is a leading cosmetic brand that is popular for its incredible line of makeup and skin care products. This brand keeps launching new products every now and then. The recently launched Lakme Absolute Argan Oil Serum Foundation With SPF 45 has become the talk of the town in the beauty community.
Within a short span of time since its launch, it gained a cult following among beauty trendsetters and bloggers. If you too are curious about this Lakme foundation and want to include it in your makeup kit, then do read on. Like today, I'm sharing a review of this best-selling Lakme product.
Go through this review to find out if this makeup product is worth the investment.
Price
You can buy a 15 ml bottle of Lakme Absolute Argan Oil Serum Foundation with SPF 45 for Rs. 750.
Texture
The primary ingredient in this Lakme foundation is Moroccan Argan oil. The liquid texture of this serum foundation with SPF 45 gets easily absorbed in the surface of the skin. The texture of this foundation is best suited for dry and combination skin type. Using it on oily skin could result in greasy and cakey looking makeup.
Shades
This Lakme foundation comes in the following shades. Pick the one that goes well with your skin tone to ensure best results.
Natural Almond – Best suited for dusky skin tone.
Honey Dew – Perfect for medium skin tone.
Rose Silk – Best suited for wheatish skin tone that has a peachy undertone.
Silk Golden – Perfect for skin tones that have a yellow or golden tinge.
Natural Light – Natural light is the lightest shade of this foundation. It is best suited for extremely fair skin tone.
Ivory Cream – Ivory cream shade is perfect for fair skin tone.
Fragrance
The foundation has a light fragrance of Argan oil that smells lovely and refreshing.
Packaging
The Lakme Absolute Argan Oil Serum Foundation comes in a plastic bottle. The golden colored plastic bottle features a dispenser that makes it rather easy to use this liquid foundation. The luxurious packaging is bound to attract you to this makeup product. The lightweight bottle is easy to carry around.
Review:
Prior to applying this oil-based foundation, I prepped my skin with an exfoliating scrub, light face cream, and concealer. Then, pour a dollop of this foundation on the face and used a makeup sponge to apply the foundation all over the face.
The foundation got easily blended into the skin without making it feel heavy or greasy. As this foundation comes with a sun protection factor (SPF) 45, I did not have to lather up on sunscreen after applying the makeup.
I used the honeydew shade as it best suited for my skin complexion. It provided full coverage and made my skin's complexion appear bright and clear. It also brought a radiant glow to my skin. Having used many oil-based foundations in the past, it was quite refreshing to use the Lakme Absolute Argan Oil Serum Foundation as it provided optimum coverage, camouflaged the dark spots and brightened up the skin tone without making my skin feel stuffy. The foundation lasted for a few hours.
To my surprise, this foundation did not cause dry patches on my skin which often happens with other foundations as my skin is quite dry. Instead, even after a few hours, it made my skin look moisturized, well-nourished, soft, and bright. At the end of the day, when I started cleaning my face, I was pleasantly surprised at the foundation came off quite easily. Even after removing the foundation, my skin felt soft and supple.
I would recommend this foundation to women with dry or combination skin type who want a multi-purpose and time-saving makeup product. This oil-based foundation works as a face oil, sunblock, and foundation. It is perfect for women who are always pressed for time as it is easy to carry and apply.
Pros of Lakme Absolute Argan Oil Serum Foundation:
There are plenty of pros of Lakme Absolute Argan Oil Serum Foundation that will make you want to include this oil-based foundation into your beauty arsenal. The light texture of this foundation sets it apart from the other foundations in the stores. It easily blends into the skin and provides the type of coverage that you would want from a foundation. Aside from that, the presence of Argan oil in this foundation ensures that your skin gets the required nourishment.
Unlike other chemical-induced foundations, this Lakme foundation contains natural ingredients like Argan oil. The goodness of Argan oil helps your skin stay healthy and improves the texture of the skin. Moreover, the sun-protective feature of this serum foundation makes it one of a kind. It safeguards the skin from the harsh sun rays and prevents your skin from getting sun damaged.
Lastly, it does a remarkable work of brightening up the skin's complexion and concealing the dark sports. Just a dollop of this Lakme foundation can give your skin a flawless-looking complexion.
Cons of Lakme Absolute Argan Oil Serum Foundation:
Currently, 15 ml of Lakme Absolute Argan Oil Serum Foundation with SPF 45 is available for Rs. 750. I believe the rate is quite high given the fact that 15 ml can get over within a few days. Secondly, when compared to other foundations in the stores, this one comes in just a few shades. Lastly, this foundation is best-suited for dry or combination skin type. If someone with oily skin uses this foundation, then she may notice greasiness on her skin after application.
Overall Product Review:
Overall, this foundation by Lakme is great in terms of coverage and safety from harsh sun rays. Go ahead and make it a part of your makeup kit to flaunt dewy, bright, and illuminating complexion.
Author Bio: Anil Panghal is the Content Manager at Dbsouq. He writes on the cosmetic & beauty, health, men or women fashions topics.