Newly Launched Lakme Absolute Argan Oil Lipstick Review, Photos, Swatches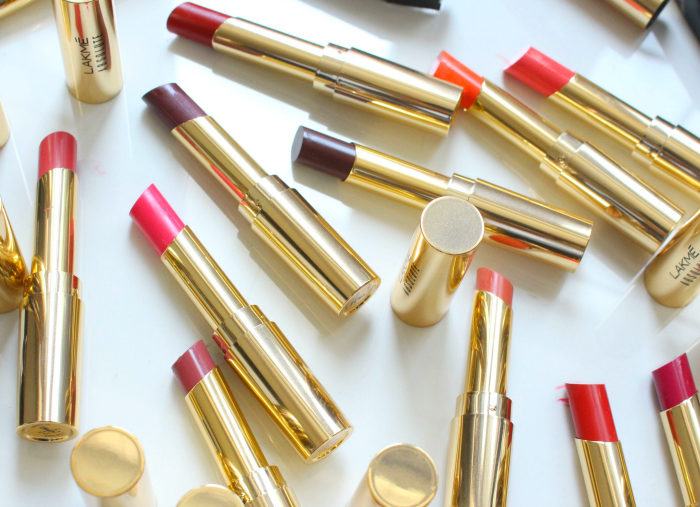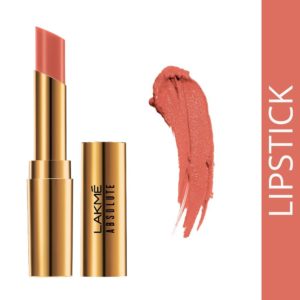 Hi ladies, Today I am going to review Lakme newly launched Argon oil lipsticks. These lipsticks are very chunky with 10 beautiful shades . We all know everyone is crazy about these lipsticks and want to know how lipsticks are? So,  not wasting much time let start with the review process:
Price:
These lipsticks cost Rs 745/- for 3.4 gms product.  But considering the texture of lipstick and packaging , you will really  not mind spending such amount and rest depends upon your choice also. You will definitely buy  it  because shades are awesome.
Packaging: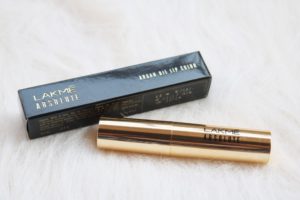 These lipsticks comes in a Black cover on which all the details of the lipstick are written with the name of the shade. Inside it, there is a metallic gold packaging of this lip color. This is a very shiny beautiful lip color packaging where the shades name is written at the bottom .
Shades Guide: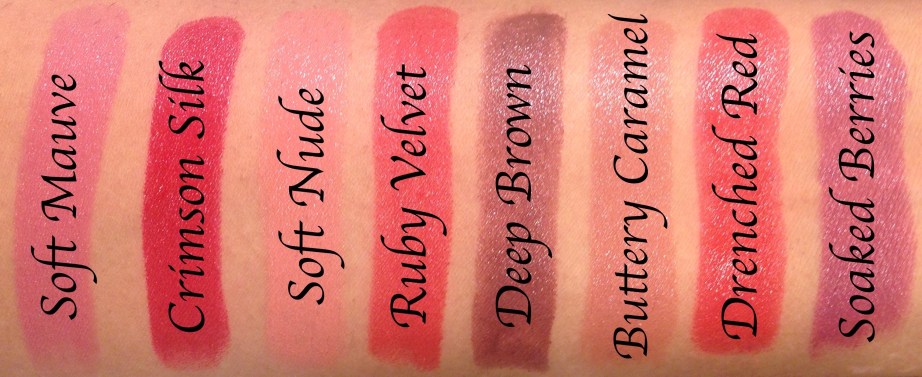 Soft Mauve:
It's a peachy Mauve shade. Its such creamy and beautiful shade. It gives a smooth look on the lips . I think it will look amazing on all skin tones however highly recommended for the medium skin tone. You can wear it on everyday while going office or anywhere.  It is a stunning color.
Crimson Silk:
Crimson Silk is a blue based red color.  This beautiful shades makes teeth look whiter as well because it is blue based red.
Soft Nude
Soft nude is a peachy shade perfect shade for NC42 . Best suited for smoky eyes. It's moisturize your lips so well due to presence of argon oil. So, that is why it feels so silky.
Ruby Valvet:
Ruby Valvet is a a beautiful warm based Red shade. It looks well on all skin tones from fair to darker. If you are a person who like warm red color then this is a very nice option for you.
Deep Brown
Yes, it is true that there are not many people who will like brown color . But, its works best in winters or wearing it at night give you a street style look. Deeper skin tones can carry it well.
Buttery Caramel
It looks darker but it's a nude brown color . If you are dusky skin tones then it will suit you very well.
Drenched Red
this shade much resembles to the strawberry smoothie. It's a high undertone pink  shade.
Soaked Berries
Soaked Berries as the name suggests is a beautiful plum color. If you want to gift you mother or a similar age group ladies then they will love this color. Girls can also wear this shade as makeup has no age.

Peaches N Cream:
This shade is beautiful peach color which is best suitable for under tone skin. It will work best on fair and slightly medium skin tones because its slightly light.
Smooth Merlot
It is a Beautiful shade. It's actually resembling to cocktail but It's a very stunning deeper color. One of the universal color for all skin tones and specially for darker skin tones . If you looking for something deeper shades then this is the very beautiful color.
Juicy plum:
This shade is very difficult to define as it is something like wine plum color. Try it, may be you like it.
Dewy orange
As the name suggest it's a pinch or orange color which is a kind of a sheer and this is less pigmented than the others. Fair and medium skin tones can carry it beautifully. It's true orange color.
Lush Rose
It's a beautiful pink shade which looks absolutely gorgeous. Its actually like a rose petal shade. Its medium pigmented and creamy and so glossy and stays amazing well for 7-8 hours. It's a beautiful everyday shade.
Silky Blush
It is a lighter pink or we can call it warm pink. This shade will go best for fair to medium skin tone.
Pink Satin
This is a deeper pink slightly blue under tone. Looks stunning on dusky skin tones . I must say, this is meant for this skin tone.
Please make the queries in the comment box. If you like my blog then please subscribe to my blog for daily beauty updates.